General Hospital Spoilers for Monday, March 9: Alexis Owns Up – Nina Is Encouraging –Willow Needs Help – Michael Is Upset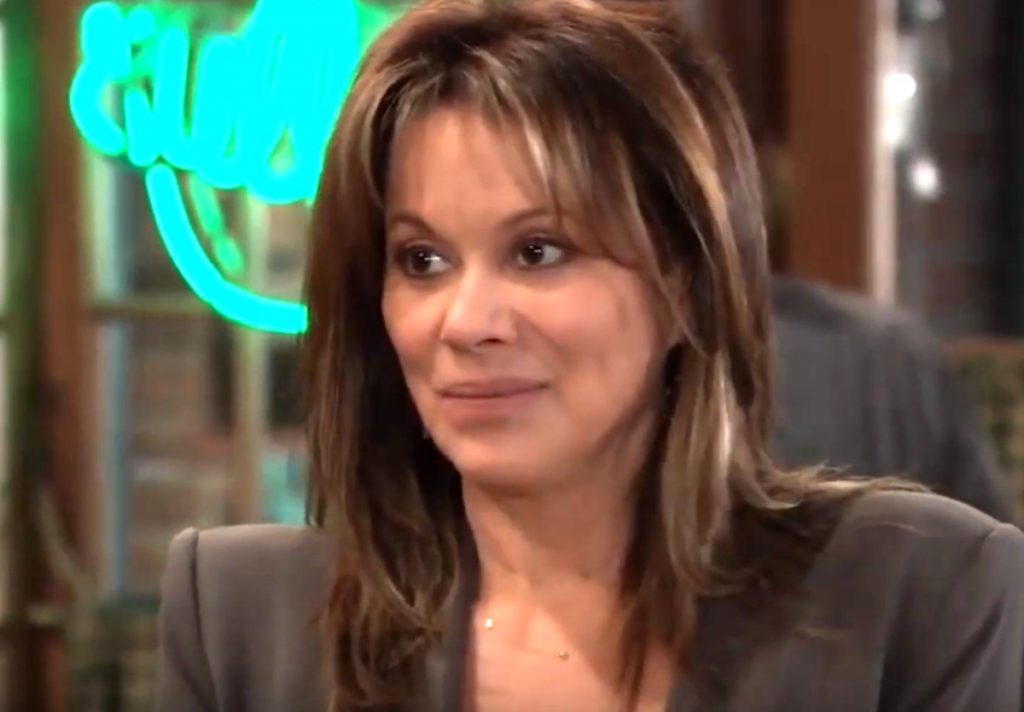 General Hospital spoilers for Monday, March 9 tease another exciting day of drama, suspense and confrontations for GH fans!
General Hospital Spoilers – Alexis Davis Owns Up
Alexis Davis (Nancy Lee Grahn) and Neil Byrne (Joe Flanigan) are sitting at a bar that looks suspiciously like the Metro Court, but they could still be in New York City. Perhaps they were seen together at the opera or at the hotel where they both had reservations at in New York City by someone on the medical licensing board and they found out that he has already lost his license, but perhaps not. Alexis owns up and tells Neil that they are in this mess because of her!
GH Spoilers – Nina Reeves Is Encouraging
At the Crimson Magazine offices, Nina Reeves (Cynthia Watros) and Sasha Gilmore (Sofia Mattsson) are talking together civilly and it looks like Nina has gotten over most of her anger at Sasha for playing the part of her long-lost daughter. She may be talking about the Deception Cosmetics and Crimson Magazine deal as she tells Sasha that they are on the brink of something really exciting!
General Hospital Spoilers – Maxie Jones Is Sorry
Elsewhere in the Metro Court, Maxie Jones (Kristen Storms) looks very sad as she is sorry for not seeing that Liesl Obrecht (Kathleen Gati) was not behind the attacks on Dr. Andre Maddox (Anthony Montgomery), Franco Baldwin (Roger Howarth), and the presumed death of Drew Cain (Billy Miller). She tells Anna Devane (Finola Hughes) and Dr. Hamilton Finn (Michael Easton) that it was right in front of her, and she refused to see it!
GH Spoilers – Damian Spinelli Updates Jason Morgan
Meanwhile, Damian Spinelli (Bradford Anderson) is about five steps ahead of Peter August (Wes Ramsey) and updates Jason Morgan (Steve Burton) that Peter framed Liesl Obrecht for his crimes! This will certainly put a different spin on Anna's arrest of Liesl in Thursday's General Hospital episode, and Peter is in for a very rude awakening, and so is Maxie, only she doesn't know it yet!
General Hospital Spoilers Monday, March 9: Michael's Marriage Strategy to Defeat Nelle – Willow Needs Help – Jason & Spinelli Aren't Fooled #GH #GH56 #GeneralHospital #ABCSoaps #ABCDaytime #PortCharles #SoapOpera #DaytimeTV #DaytimeDrama #DaytimeSoaps https://t.co/d7eMpYU6sA

— SOS/CTS/HH (@SoapOperaSpy) March 6, 2020
General Hospital Spoilers – Willow Tait Needs Help
Willow Tait (Katelyn MacMullen) needs someone's help, and she may be talking to a grief counselor to help her deal with her adjustment to the knowledge that the baby she got attached to as her own, Wiley Cooper-Jones, now Wiley Corinthos, (Theodore and Erik Olson) was not hers, he is Michael Corinthos' (Chad Duell) son with Nelle Benson (Chloe Lanier)! Her real baby died of sudden infant death syndrome, and General Hospital viewers will recall the truth only came out recently, with Wiley now being close to two years old!
GH Spoilers – Michael Corinthos Is Upset
Meanwhile, Michael is upset at the Quartermaine mansion as he is talking with Attorney Diane Miller (Carolyn Hennesy) who is helping with the custody case between Michael and Nelle. Viewers will recall from last week's General Hospital that Nelle is suing Michael for full custody, and Michael is livid as he shouts about Nelle to Diane; he says that Nelle is cold and calculated as they come!
Stay tuned to General Hospital and keep checking General Hospital spoilers frequently for all the latest news, updates and developments!