General Hospital Spoilers: Carly Listens To Sam's Fears About Mob Life, The End Of JaSam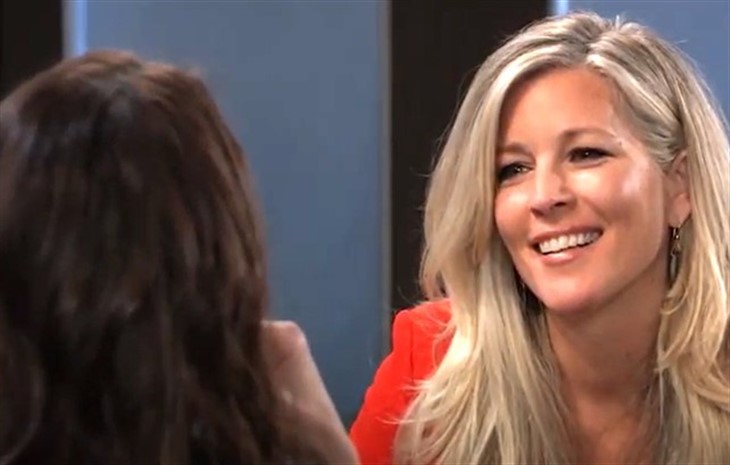 General Hospital spoilers and updates reveal in Port Charles, NY Sam McCall (Kelly Monaco) and Carly Corinthos (Laura Wright) have gone from bitter enemies to best of friends in recent years. Carly saw how upset Sam was when Jason Morgan (Steve Burton) was presumed dead when he was shot in 2012. Sam held onto the faith that Jason was alive longer than anyone else associated with him. However, now that the war with Cyrus Renault (Jeff Kober) has heated up and Jason is his number one target, Sam is having reservations. Carly will listen to Sam's concerns but can she convince Sam to hang in there with Jason?
General Hospital Spoilers – Sam McCall Has Been Tied To The Mob For Years
General Hospital's Sam has dealt with the mob since she dated Sonny Corinthos (Maurice Benard) in 2004. Sam was stabbed after seeing a bomb being planted under Sonny's vehicle. Sam was kidnapped by her ex-boyfriend Niko Dane (Ryan Alosio) while pregnant with Sonny's daughter.
Sam was accused of kidnapping Sonny's daughter in 2005 and ended up dealing with the mob then. Sam has dated Jason off and on since 2004. Sam has been almost killed by Jerry Jacks (Sebastian Roche') while working again the Russian mob. Sam almost died in a gravel pit because of the Russians after helping save Jake Webber (Hudson West) from the mob as well. Sam married into the mob after reuniting with Jason in 2009 and chose to have kids with Jason. Now suddenly, after her son has been put at risk, Sam isn't sure how much more she can take. Will the truth about the bombing change her mind?
GH Spoilers – Sam McCall Doesn't Know The Whole Story
General Hospital's Sam had a taste of life outside the mob while with Drew Cain (Billy Miller), however, Sam felt smothered. Sam wanted to be with Jason no matter the cost and Carly knows that. Carly also knows that she has been through this time and again with Sonny and his injuries as well as their breakups. Carly also knows but Sam and Jason and can put this into perspective for her.
Carly is likely to remind Sam how much she longed for Jason while he was gone as well. However, Sam has no idea that her father, Julian Jerome (William deVry) is the person who put her son in danger. Sonny and Jason are gathering evidence to prove that Julian owed Cyrus a favor and will eventually figure out the bomb was his payback. Julian knew the restaurant was full of people when he left that bomb. Will Sam change her mind once she learns the whole story?
General Hospital's Sam is in a panic over this explosion and the deaths that followed. However, it is very unlikely that Sam will walk away from Jason after finally reuniting with him. Sam didn't enter into a deal with Valentin Cassadine (James Patrick Stuart) to walk away from Jason now. Carly will likely calm Sam's nerves and convince her that everything will be ok. After all, Sam is not happy without Jason in her life.
Be sure to catch up on everything happening with GH right now. Come back here often for General Hospital spoilers, news, and updates.