Days Of Our Lives Spoilers: Christmas Nightmare Turns Salem Characters Upside Down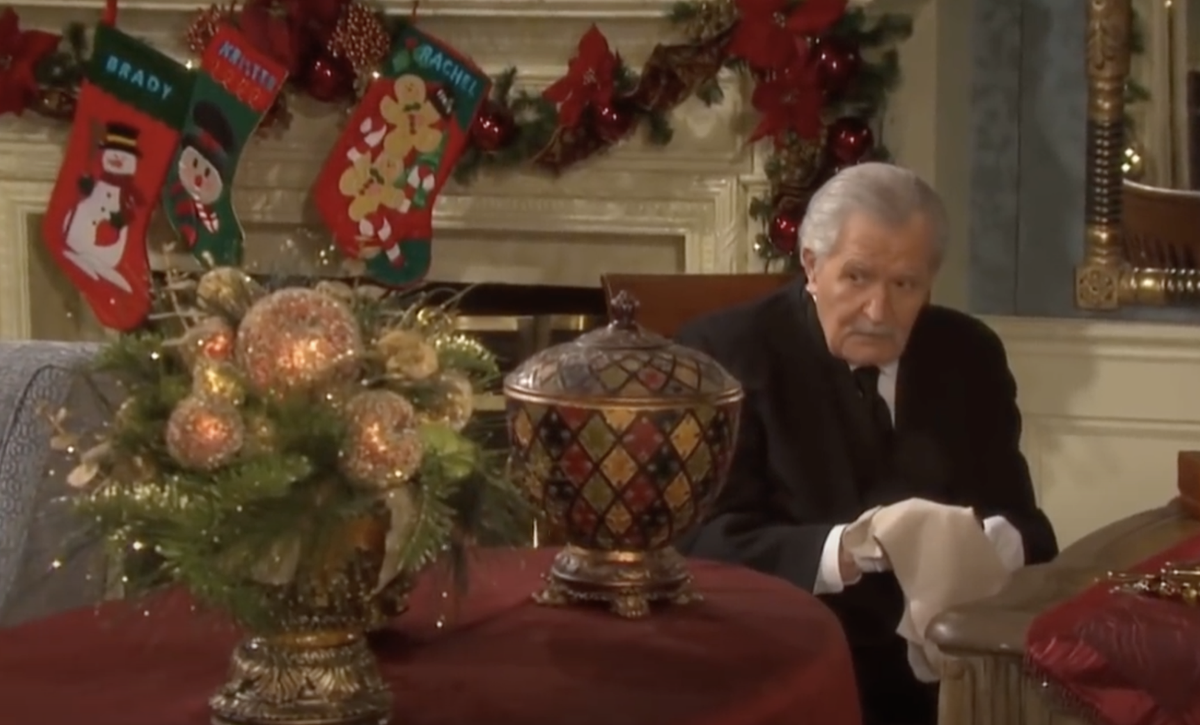 Days of Our Lives spoilers tease that there may be an episode that may either be a Days of Our Lives version of "A Wonderful Life" or perhaps "A Christmas Carol". The winter preview video shows scenes where some of the Kiriakis family are not in their normal roles at all!
Days Of Our Lives Spoilers – Xander Kiriakis – Back To Being A Gardener – Or An Exterminator?
Sarah Horton (Linsey Godfrey) is not seen at all in these preview scenes, but Xander Kiriakis (Paul Telfer) is back to being the gardener, it would appear as he wears a uniform, scowls, and carries what appears to be a watering can. Only the handle can be seen, so it may actually be a sprayer an exterminator uses!
He is certainly not happy about his fall from fortune and goes about looking very, very angry. In Charles Dickens' "A Christmas Carol", a character named Ebenezer Scrooge has a nightmare where three ghosts escort him on a time-traveling journey – where his life will be much different if he does not change his ways. In "A Wonderful Life" a man also has a supernatural escort, in this case, an angel who takes him on a journey showing him how to appreciate the good things in his life.
It looks like something similar may happen to several in the Kiriakis mansion in this episode, including Xander! Philip Kiriakis (Jay Kenneth Johnson) are not shown in the preview scenes at all, and neither is Justin Kiriakis (Wally Kurth). This does not mean that they may not be featured in this particular episode, however. They are just not shown in the preview scenes. Xander's life has definitely taken a downturn!
DOOL Spoilers – Maggie Kiriakis A Maid, And Victor Kiriakis A Butler? Kristen DiMera And Brady Black The Lord And Lady Of The Manor?
Maggie Kiriakis (Suzanne Rogers) is seen wearing a maid's uniform and dusting with a feather duster! She is working on the fireplace mantel with a dustcloth, then starts dusting a table with a feather duster. She busily goes about the room taking orders, as Victor Kiriakis (John Aniston) sits polishing the silver! Kristen DiMera (Stacy Haiduk) points out to Victor that he missed a spot in his polishing of the silver, which brings a disgruntled look and a comment that he's a butler, not a scullery maid!
While hurried cleaning activity takes place in the background, Brady Black (Eric Martsolf) and Kristen take a moment to kiss while Maggie continues to dust, Victor continues to polish, and Xander can be seen in the background either watering or fumigating a table full of poinsettias! This is definitely a Christmas episode, as stockings are hung on the mantel, mistletoe is about, and roles are completely reversed! Maggie seems to be taking her reversal of fortune the best, although she might wish she could dust Kristen and Brady out of the mansion, while Xander and Victor are the angriest of all!
Stay tuned to Days of Our Lives, and keep checking Days of Our Lives spoilers frequently for all the latest news, updates, and developments!