General Hospital Spoilers: Ava Demands Answers From Julian About His Marriage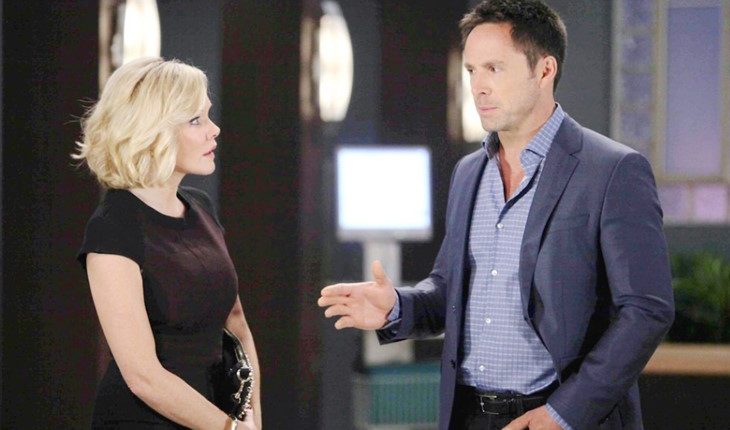 ABC General Hospital  Ava Jerome Cassadine (Maura West) Julian Jerome (William DeVry) like most of Port Charles knows there is something fishy about Julian Jerome's (William DeVry) marriage to Nelle Benson Jerome (Chloe Lanier) and it determined to get answers. Will Ava get to the bottom of this or be blown off by the unhappy couple?
General Hospital Spoilers – Ava Jerome Knows Her Brother
General Hospital's Ava knows her brother and she knows he's been blackmailed into this. Alexis Davis (Nancy Lee Grahn) has stated the same thing. Julian made it obvious that he didn't like Nelle long before she was released from prison. Ava knows that Julian would not get married again unless it was to someone he loves. Julian and Nelle's marriage has caused half of Port Charles to question it. Now Ava has finally got the chance to find out what is going on.
GH Spoilers – Ava Jerome Knows Of Julian Jerome's Involvement Over Wiley Cooper-Jones
General Hospital's Ava knows that Julian knew that Brad Cooper (Parry Shen) had Michael Corinthos' (Chad Duell), baby. Ava also knows that Sonny Corinthos (Maurice Benard) would kill Julian if the truth comes out. Ava is bound to put it together and figure out that Nelle knows that Julian helped Brad. Unfortunately, Nelle does know and Julie doesn't trust her to keep quiet. Will Ava advise him to cut his losses and be honest with Sonny? Will Ava continue to keep this secret for Julian and Nelle?
General Hospital Spoilers – Ava Jerome Is Certain To Warn Nelle Benson
General Hospital's Ava is certain to warn Nelle what will happen if Julian gets hurt because of this arrangement. Ava will go after Nelle herself if she threatens to expose Julian. Sonny may have to stand in line to get to Nelle if Julian is harmed because of her. Ava is not about to lose her brother and she is likely to explain that to Nelle when they meet.
GH Spoilers -Julian Jerome Is Playing With Fire
General Hospital's Julian knows that he is playing with fire. Julian has kept Sonny's grandson from him for two years nearly. Julian is now trying to help his wife get custody of Wiley Quartermaine Corinthos (Theo and Erik Olson). If Sonny wasn't preoccupied, Julian would probably already be dead. Julian is very lucky that Sonny has not come after him already. The more involved Julian becomes the more angry Sonny will be. Will Sonny eventually make Julian pay for his involvement in keeping Wiley from Michael?
General Hospital Spoilers And Recap Monday, August 10 – Sam Makes A Deal With Valentin; Jordan Continues To Liehttps://t.co/qATFSOTfw4

— SOS/CTS/HH (@SoapOperaSpy) August 10, 2020
Sonny will be upset enough over Julian trying to get custody of his grandson. If the truth of Julian's involvement with Brady ever surfaces, all bets will be off. Sonny will not let Julian get by with everything he has done to keep Michael's child from him. Eventually, Sonny will make Julian pay unless Ava and Julian find some way to cover his tracks.