General Hospital Spoilers: Alexis And Neil Can't Stay Away From One Another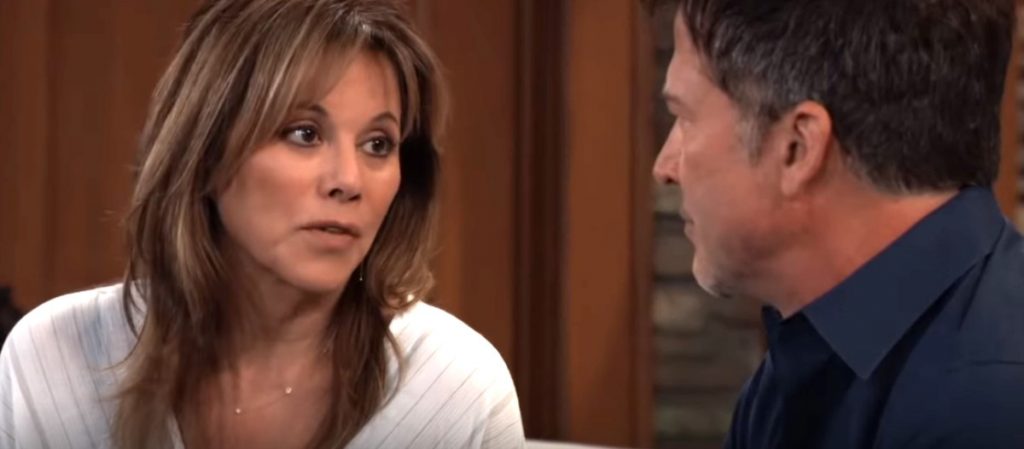 General Hospital (GH) spoilers tease that Alexis Davis (Nancy Lee Grahn) and Dr. Neil Byrne (Joe Flannigan) dodged a bullet during their recent trip to New York City. They were in town too because of Neil's hearing regarding his potentially inappropriate behavior toward Alexis.
General Hospital Spoilers – Attracted from the beginning!
Neil and Alexis were attracted to each other from the moment she began to see him as her therapist. But Alexis continued to see Neil because he truly was able to help her.
But once their attraction became too strong, the agreed to stop seeing each other professionally. It was at that point that the two of them went on a date. They had a nice time at Drag Bingo at the Floating Rib and even shared a kiss.
GH Spoilers – The fine print
But Neil didn't close enough at the fine print. A therapist and his patient aren't supposed to see each other in any kind of personal relationship for two years after the date their professional relationship ends. Someone found out about their date and called the ethics committee and reported Neil. At the hearing, Alexis lied to the Ethics Committee and said there was nothing going on between her and Neil.
General Hospital Spoilers – The opera and after
But just the night before, Alexis and Neil found themselves at the opera together. After that, they returned to her hotel room and made love for the first time. Now that the ethics committee has ruled in Neil's favor, will they be able to stay away from each other? It seems unlikely, now that they have gotten away with it once. Neil seems ready to give up his license if need be, but Alexis doesn't want to the reason Neil can't practice any longer.
GH Spoilers – Neil Byrne is now on staff at General Hospital
With Neil now on staff at General Hospital, Alexis and Neil will likely run into each other quite often and it seems like only a matter of time before they give in to passion once again. And since they still don't have any idea who reported Neil in the first place, this could remain quite risky for both of them.
General Hospital Rumors: Sonny Clueless – Threatening Brad To Plead Guilty Helps Nelle https://t.co/8Rwl8FQ30n pic.twitter.com/An29SGQPtP

— SOS/CTS/HH (@SoapOperaSpy) March 18, 2020
General Hospital Spoilers – What do you think?
Should Neil and Alexis throw caution to the wind and continue their romance? Should Neil just give up his practice or should they just hope that no one turns them in again? Anything can happen, so stay tuned to General Hospital airs weekdays on ABC. And don't forget to check back here regularly for all your General Hospital news, information, and spoilers!