Eastenders Spoilers: Ian's Smug Smirk Will Be Short-Lived – Sharon Learns Truth About Son's Death?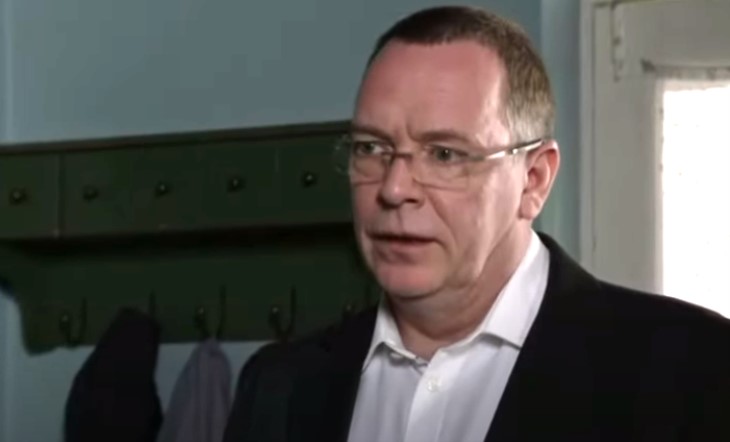 BBC Eastenders spoilers and updates reveal that Sharon Watts (Letitia Dean) ended up playing Phil Mitchell (Steve McFadden) like a fiddle. With help from a few of her friends, of course. She ended up being the new landlord of The Vic, along with Ian Beale (Adam Woodyatt). While Ian smugly smirked, don't expect it to last long. The truth is going to come out eventually.
Ian Beale's Smug Smirk
The night Sharon gave birth to her baby was the same night she lost her older son, Dennis Mitchell (Bleu Landau). However, she doesn't know everything about his tragic death. Ian was involved and he is doing everything in his power to prevent Sharon from finding out the truth.
He tried giving Karen Taylor (Lorraine Stanley) money to move away with Sharon's baby. He made a speech about Dennis's death and paid for a memorial. Now Ian thinks that his secret is safe and even if it came out, nobody would believe it. But he could be very wrong about that.
His smug smirk as it was revealed that he and Sharon are the new landlords of The Vic may very well be short-lived.
EastEnders Spoilers – Threatening Dotty Cotton
Eastenders spoilers reveal that at one time, Dotty Cotton (Millie Zero) could prove to Sharon that Ian was involved. However, she spent her time blackmailing and threatening Ian instead of just going to Sharon immediately. At one point, Ian got the keys to The Arches and destroyed the phone that had Dennis's voicemail to Sharon, recorded on the night he died.
Now, she has no leverage and has no proof. It would be Ian's word against Dotty's. Who is Sharon going to believe? A troubled young woman who was just arrested for drugs or Ian, who gave emotional speeches, paid for a memorial, and bought The Vic for her?
It seems like Dotty is losing this battle, but in the soap universe, the truth always comes out — even if it's years later.
Buying The Vic
With Ian and Sharon the new owners of The Vic, the two will be living there as well as running the pub. He might think he has won and will let his guard down. He might not worry about Dotty anymore, especially after he gave one final threat. However, Sharon deserves to know the truth and the storyline cannot be resolved until it happens.
EastEnders Spoilers – How Will The Truth Be Revealed?
Could Dotty end up confiding to Phil about Ian's involvement? That certainly is one possibility. While Ian may think he has won, this storyline is far from over.
#Eastenders Spoilers: Gray And Chantelle's Future Teased By Toby-Alexander Smith https://t.co/ZBBtAOFZLe

— SOS/CTS/HH (@SoapOperaSpy) June 17, 2020
When Sharon finally learns the details of what really happened the night Dennis died, what will she do? How will this affect the other characters? What is the future for Sharon, Ian, Dotty, Phil, and others?
Be sure to catch up on everything happening with the soap right now. Come back here often for Eastenders spoilers, news, and updates.
Share your thoughts in the Comments section below and join the SOS community, for all the Soap News Keep Visiting Soap Opera Spy, For all the Royal News & Brit Soaps, check out Celebrating The Soaps