Days Of Our Lives Spoilers: Steve & Kayla Share A Moment, Helps Him Put His Patch Back On – His Eye Is Beyond Repair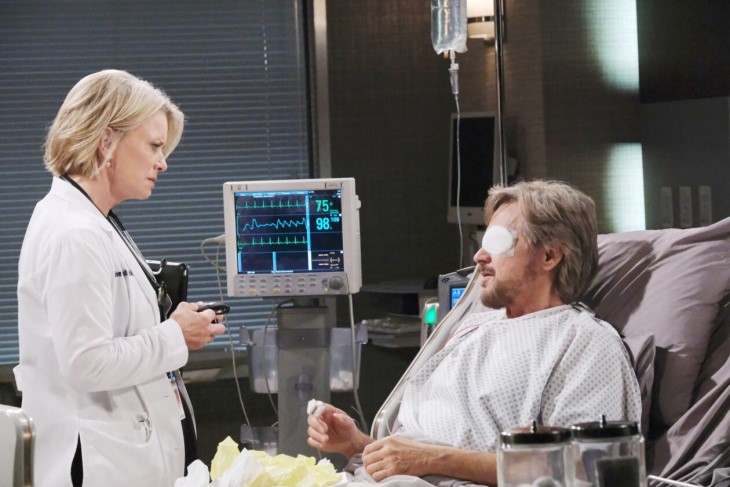 Days of Our Lives spoilers tease that Steve Johnson (Stephen Nichols) and Dr. Kayla Brady (Mary Beth Evans) will have some bad news for Steve in an upcoming episode of Days of Our Lives. She tells him that his eye is beyond repair, and helps him put his patch back on.
Days of Our Lives Spoilers – Dejá Vu Hits Hard As They've Been Through This Before
Dejá Vu hits both Steve and Kayla hard, as they've been through this before many years ago, when Bo Brady (Peter Reckell) accidentally took out his eye with a knife. Steve opens up telling Kayla she's the only one who has ever seen his wound, and old memories are stirred up between them, not of necessarily better days, but memories in common, nonetheless of when they were happy and in love – although the loss of his eye wasn't exactly a pleasant experience!
They feel like they are in a time machine built for two as they go into the past and remember what happened after the fight with Bo. They both feel a sweet and intimate moment, but Steve reminds them that he can't be trusted and she can't be with him. He's controlling everything and pushing her away! Kayla, meantime, has recommitted to Justin Kiriakis (Wally Kurth) and while Steve and she will never be enemies, they will keep their proper distance from each other to allow for emotional healing.
She asks him about his plans for after the hospital, since he will be released soon, and he tells her Hope Brady (Kristian Alfonso) is helping him out. Kayla is a little bit taken aback since she figured he'd either be staying with John Black (Drake Hogestyn) and Marlena Evans, (Deidre Hall) or Jack and Jennifer Deveraux (Matthew Ashford, Melissa Reeves).
She figures both he and Chad DiMera (Billy Flynn) would be uncomfortable with him staying with him and Abby DiMera (Kate Mansi) at the DiMera mansion! She thinks about it and figures Hope is just giving him a ride to where ever he will be staying.
DOOL Spoilers – Doctor And Patient Time
Now it's back to doctor and patient time, now that the patch is back on "Patch" and talking about post-release instructions. Neither of them thinks another bionic eye would be a good idea, at least not until they can be sure that it can't be hacked into like it was when Stefan DiMera (Brandon Barash) was in charge of DiMera Enterprises.
It may be different with Chad DiMera (Billy Flynn) running the show but it's too early to even think about that since it would require another operation on his eye socket to place a bionic eye or even a prosthetic one –which he doesn't want unless they are advanced enough to move around like another real eye, he doesn't want something that looks like a big creepy marble in there, and Kayla agrees!
Days of Our Lives Spoilers and Rumors: Rafe Ready To Retire – Fed Up With Salem PDhttps://t.co/6x3eVKTDDu #daysofourlives #DOOL @galengering @nbcdays

— SOS/CTS/HH (@SoapOperaSpy) April 27, 2020
Maybe a bionic eye may be something to revisit in the future, the far future! Then Hope arrives to pick Steve up and Hope wants to know about the aftercare instructions for Steve, and Steve admits he will be staying with Hope at least for the time being. Kayla isn't surprised in a way since they have both been through unique experiences of being mind-controlled
by microchips in their brains and they probably have a strong empathetic connection with each other. Deep down in her heart, though, there's a little stab of pain.
Stay tuned to Days of Our Lives, and keep checking Days of Our Lives spoilers frequently for all the latest news, updates and developments!