Days of Our Lives Spoilers: Dr. Rolf Forced To Pull The Trigger – Surprising Turn Of Events in Salem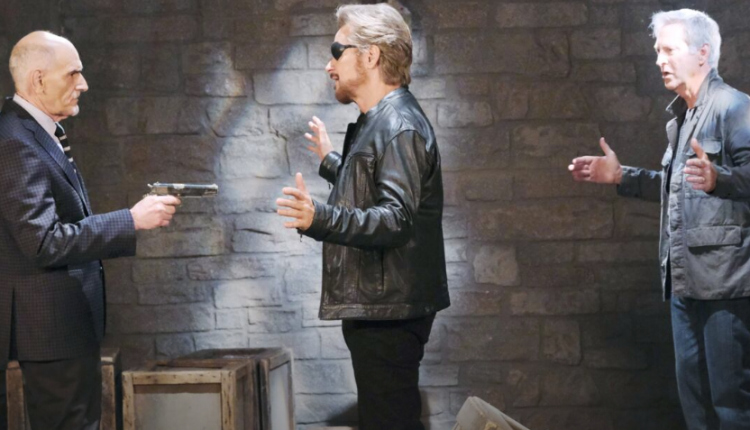 Days of Our Lives spoilers reveal John Black (Drake Hogestyn) makes a discovery about Steve "Patch" Johnson (Stephen Nichols). It will make him suspicious, but he doesn't have time to act on it. Then, Dr. Rolf (William Utay) shoots one Salemite in a surprising turn of events that will change everything for one couple.
Days of Our Lives Spoilers – Stefano DiMera's Ring
DOOL spoilers tease John makes a startling discovery while going through Steve's bag. It is Stefano DiMera's ring, which John finds suspicious. Why would his best friend, good guy Steve have the ring of a supervillain? What does it mean? These are questions that run through John's head as he confronts his best friend to find out the truth.
DOOL Spoilers –  Steve Johnson's Explanation
When John asks about the ring, Steve says that he only has it because Kate Roberts (Lauren Koslow) game it to him. He claims that it could come in handy and they can use the ring to lure Stefano since it is part of the villain's identity.
Days of Our Lives Spoilers – Dr. Rolf Returns
Days of Our Lives spoilers reveal Steve then announces he has a lead on Stefano. He takes John to a secret lair and they encounter Dr. Rolf who pretends to shoot Steve. The whole purpose is to make John vulnerable. Stefano believes that if John thinks Dr. Rolf has killed his best friend, he will be easier to handle. After the "shooting," Stefano knocks out John.
Days Of Our Lives Spoilers: Are Brady And Kristen Reuniting? Baby Brings Them Together Again https://t.co/2DEjLNTQhQ pic.twitter.com/iJnHjRaRCP

— SOS/CTS/HH (@SoapOperaSpy) January 28, 2020
DOOL Spoilers –  John Black Held Hostage
Back in Salem, John is tied up and Princess Gina (Kristian Alfonso) shows up to give John a message. She lies and tells him that his wife, Dr. Marlena Evans (Deidre Hall) is dead, killed by Stefano.
Meanwhile, the psychiatrist is told basically the same story in reverse, that John has been killed. She is emotionally overwhelmed with the news and can't believe that the man she loves is gone forever.
Elsewhere, Rafe Hernandez (Galen Gering) and Shawn Brady (Brandon Beemer) work on locating Gina after discovering that Marlena has gone missing. Will they find her in time and what about saving John?
Be sure to catch up on everything happening with DOOL right now. Come back here often for Days of Our Lives spoilers, news, updates and rumors!