The Bold And The Beautiful Spoilers: There's No Way Out For Flo And Zoe — Time To Confess And Reunite Hope And Beth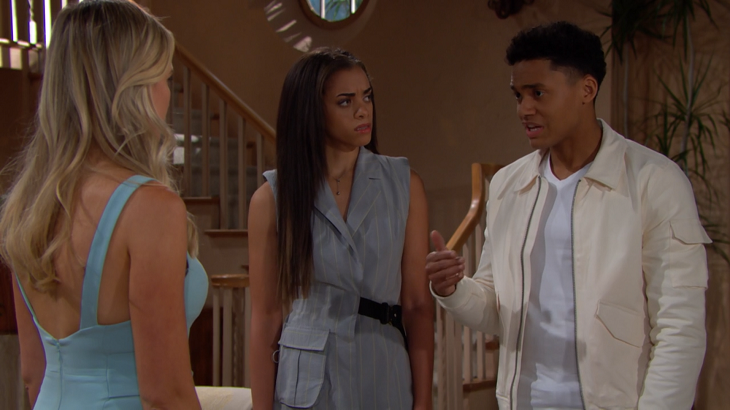 The Bold and the Beautiful (B&B) spoilers tease that Flo Fulton-Logan (Katrina Bowden) and Zoe Buckingham (Kiara Barnes) are caught no matter what choice they make. Realizing that matters are now beyond their joint control, both ladies are damned if they do, or if they don't tell the truth.
The time to change course for Flo was when Reese Buckingham (Wayne Brady) asked her to play birth mother to Beth Spencer (Madeline Valdez and River Davidson). But she went along with her then perceived boyfriend's plan to rob Hope Spencer (Annika Noelle) and Liam Spencer (Scott Clifton) of their first-born child and to then fool Steffy Forrester (Jacqueline MacInnes Wood) and her mother, Taylor Hayes (Hunter Tylo), into believing that they were participating in a private adoption.
B&B Spoilers– Revealing The Truth Is Risky For Flo
Digitally skipping from the above soapy setup to early June, Flo's conscience is ailing, but not fully pained. She hasn't pushed herself toward a truth-purge, which would risk the great gig she was given at Forrester Creations, via her realized Logan genetics.
Flo also doesn't want to move out of the plush paradise that she and her enabling mother, Shauna Fulton (Denise Richards), now reside in. Bowden's character feels that their fairy tale lifestyle will end if the Phoebe is revealed as Beth. So she presses on, in fashionable outerwear hoping time heals her mild bruise and affords Hope and Liam future happiness.
Zoe knows, not just believes, that her father would be arrested and sent to prison. Reese is a licensed doctor who abused the privilege his status uniquely affords him to bring life into the world. His smash of the Hippocratic Oath shattered all ethical standards he promised to uphold.
Bold And Beautiful Spoilers– Flo And Zoe Cannot Defend Their Actions
There's no explanation that Reese can offer to defend his actions. That's why he opted to return to London, England. In case all does come out, at least he'll have lead time to run somewhere else as he tries to avoid extradition for his crimes.
Reese's daughter is acting mostly from a pure desire to protect her father. On that count she deserves compassion. Zoe has also been honest in stating that she's an after-the-fact accomplice to her dad's crimes. If caught, she could spend time behind bars as well.
All of the above represents a circular dilemma that ensnares Flo and Zoe indefinitely. If they do tell the truth to any of the principal players who are unknowingly wrapped in this dark drama, then they will face consequences. However, if they remain silent, then feared fate will continue swirling around them.
Damned if they do, or don't. That's why both ladies never should have furthered Reese's gambling debt repayment plan. But they did and so the inevitable reveal will eventually drop on them.
Soap Opera Spy is a leading source for everything linked to The Bold and the Beautiful. Check back regularly for B&B spoilers and news! As always, more detailed Spoilers and Breaking news will appear here on Soap Opera Spy.