General Hospital Recap Wednesday, July 17: Dr Obrecht Has A Secret – Sonny Furious With Ava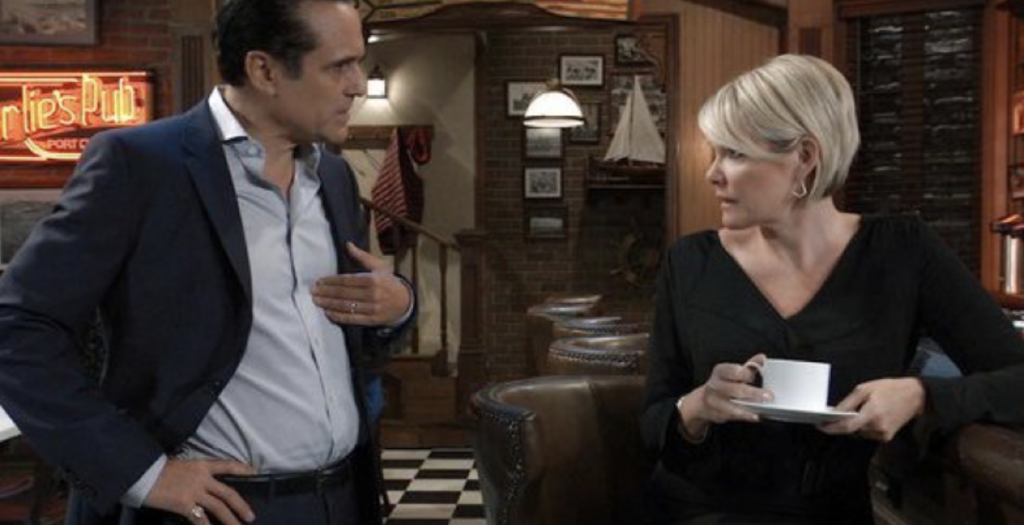 Welcome to your Wednesday, July 17th General Hospital (GH) recap! We begin our day at the Corinthos Mansion kitchen, where Josslyn Jax (Eden McCoy) is looking at a gift that Oscar gave her. Dev (Ashton Arbab) apologizes for interrupting her moment and she yells at him.
At Charlie's Pub, Ava Jerome (Maura West) tells her brother Julian Jerome (William DeVry) that she was able to reach Kiki in the séance. Suddenly Sonny Corinthos (Maurice Bernard) appears and asks Ava what the hell she was thinking giving Avery a message from Kiki?
Also at Charlie's Pub, Cameron Webber (William Lipton) has invited his parents to meet him. Elizabeth Webber (Rebecca Herbst) asks if they need to be concerned as Franco Baldwin (Roger Howarth) looks on. Cameron puts a set of keys on the table and says he bought a car.
At the Metro Court, Willow Tait (Katelyn McMullen) greets Alexis Davis (Nancy Lee Grahn) and ask if she also received a message from Diane Miller. Alexis says that he did and she invited Brad and Lucas to join them as well.
Dr. Obrecht knows the Wiley secret
At General Hospital (GH) Brad Cooper (Parry Shen) goes into Liesl Obrecht's (Kathleen Gati) room and pull out a needle while she's sleeping. Suddenly Nina Reeves (Cynthia Watros) enters the room and asks Brad what he is doing, as Liesl awakes. Brad says he is there to draw blood and Nina questions his intentions. Lucas Jones (Ryan Carnes) enters the room and says he needs to talk to Brad.
Nina sits down next to Liesl who asks if Hayden Barnes has been charged in the attack. Nina explains it was not Hayden and Liesl is adamant in finding out who pushed her off the boat.
Alexis Davis wants to meet with everyone regarding Wiley
Lucas tells Brad that Alexis wants to meet with them about the Shiloh and Wiley situation. At the Metro Court, Diane Miller (Carolyn Hennessy) enters and Alexis says they need some good news. Brad and Lucas arrive at the Metro Court and says the Shiloh DNA test was not admissible.
Diane says that Shiloh does not have a stronghold anymore in the case.
General Hospital Spoilers Thursday, July 18: Sam Surprises Jason – Sasha Makes A Decision – Curtis Worries About Jordan https://t.co/2wFxhTii6h pic.twitter.com/HMkkhe2Seg

— SOS/CTS/HH (@SoapOperaSpy) July 17, 2019
Josslyn Jaxs and Dev butt heads again
Carly Corinthos (Laura Wright) enters the kitchen and asks them what they are fighting about. Josslyn yells at them and says that she is super angry, but then apologizes. Dev leaves and Carly talk to Josslyn about her current emotional state.
Carly says she is still going through the grieving process regarding Oscar and that's okay. Carly thinks since he helped Sonny, they have an obligation to help Dev. Sonny comes home and they discuss the Dev living situation.
Cameron Webber gets a car
Cameron tells Elizabeth Webber and Franco Baldwin that Oscar Nero left him his car in the will. He tells them he wants to keep the car if they can make the space. Liz tells him that he is being very mature and if he keeps it up, he will get his license back.
Sonny Corinthos and Ava Jerome argue
Sonny is livid with Ava and tells her that Avery is only 4 years old, she's now asking if her brother Morgan can send her a message as well. Ava says she did not think Avery would remember Morgan, as Sonny threatens her not to mention Kiki again. Sonny says she needs to go about it in a different way and she needs to keep the psychic stuff away from his daughter.
Julian tells Ava that he is worried about her and that she is relying on a psychic for grief counseling.
General Hospital Spoilers: Shiloh's Days Are Numbered – Michael Makes A Shocking Move https://t.co/obdotyYiic pic.twitter.com/EnBPsCcJMT

— SOS/CTS/HH (@SoapOperaSpy) July 16, 2019
Trina Robinson and Dev meet up
In the park, Dev runs into Trina Robinson (Sydney Mikayla) who sits down to chat with him. Cameron fly's by on his bike and stops to chat with them before his community service. He tells them that Oscar gave him his car and his mom is letting him keep it.
Wednesday Revelations
Julian updates Ava and tells her that the Wiley situation has been resolved for the time being. Nina talks to Liesl about the Willow situation and realizes her argument with her at the Nurses Ball could have been when Shiloh found out about the baby.
Franco and Liz look at a picture on her phone from the wedding. It's a picture of Franco and Liesl and they realize there is someone lurking in the background…….flash to preview
Stay tuned to General Hospital and keep checking GH spoilers frequently for all the latest news, updates and developments! As always, more detailed Spoilers and Breaking news will appear here on Soap Opera Spy!