General Hospital News: Hillary B. Smith Returns As Nora Buchanan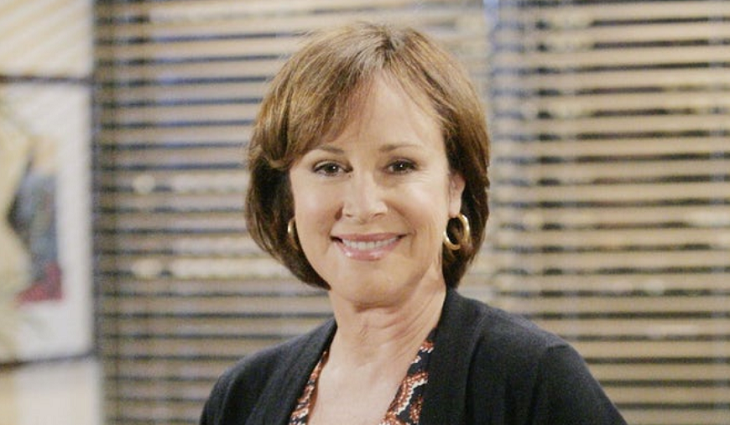 General Hospital spoilers tease that Hillary B. Smith is on her way back to General Hospital as Nora Buchanan. Several sources, including SoapHub, report that Nora will be representing Dr. Kevin Collins (Jon Lindstrom) when his trial comes up. Kevin was charged with being an accomplice to his psychotic serial killing brother Ryan Chamberlain.
No air-date has been announced yet, but considering Alexis Davis (Nancy Lee Grahn) may be working on a divorce for Laura Webber Collins (Genie Francis) if she goes through with it, that would be one conflict of interest for Alexis.
By the time this comes to trial, Diane Miller (Carolyn Hennesy) may be otherwise occupied as well. Possibly with custody cases involving baby swaps!
General Hospital News – Kevin Collins' Misplaced Sense Of Loyalty
Kevin's guilt by association and "misplaced sense of loyalty" as Laura put it, has besmirched his own reputation and lost him longtime friends as well. So it's understandable he either may not be able to find someone in Port Charles to represent him, or he wants Nora because of her strong reputation for winning cases.
LOVE GH?  SUBSCRIBE TO OUR GENERAL HOSPITAL NEWSLETTER, HERE
General Hospital viewers know Kevin has a long road ahead of him before the people of Port Charles will ever disassociate him from Ryan. And before he can re-establish their trust and his reputation. But it's not his first rodeo with this kind of thing.
Back in the mid-nineties, after Ryan "died" the first time in the fun-house explosion, longtime General Hospital viewers will remember when Kevin broke down and thought he was Ryan. He stalked and kidnapped Felicia Scorpio (Kristina Wagner).
General Hospital News – Will Lucy Coe Be At Kevin Collins' Side?
Lucy Coe (Lynn Herring), who later became his wife, advocated for him and got the charges dropped. He still ended up losing his medical license and spent some time in a psychiatric facility, using his time away from practice to write a murder mystery called General Homicide.
General Hospital Spoilers: Sonny's Men Are On The Hunt For Ryan Chamberlain https://t.co/sriCrkYQOm pic.twitter.com/eWZZUONMMb

— SOS/CTS/HH (@SoapOperaSpy) March 28, 2019
Kevin may go through a similar process this time around as well, even if Nora Buchanan is able to get the charges either dropped or reduced! Everyone else in Port Charles is pretty mad at him. His ex-wife Lucy, who's always regretted cheating on her "Doc" and wanting to make it up to him will likely be at his side through all of this if Laura isn't.
Stay tuned to GH and keep checking General Hospital spoilers frequently for updates on Kevin's court date, and when Hillary B. Smith will appear as Nora Buchanan!
As always, more detailed spoilers and a full collection of pictures for the week in question will appear here on Soap Opera Spy, where there will be more clues and hints over exactly what's going on.
General Hospital airs weekdays on the ABC network.
---
Read more news, spoilers, and gossip on our General Hospital homepage
Want up-to-the-minute soaps news, spoilers, and gossip on your social feeds? Just hit 'Like' on our Soap Opera Spy Facebook page.