Days Of Our Lives Spoilers Thursday, October 3: Brady Tells Marlena About Kristen's Pregnancy – Ciara And Ben Think Jordan Tried To Kill Ciara – Tragedy Strikes!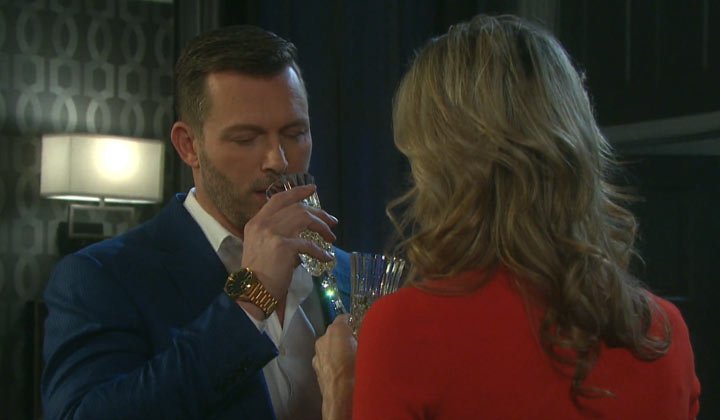 Days of Our Lives spoilers for Thursday, October 3 tease another day of exciting drama, suspense, romance, and tragedy for Days of Our Lives fans!
Days of Our Lives Spoilers – Brady Black Tells Dr. Marlena Evans About Kristen DiMera's Pregnancy
Brady Black (Eric Martsolf) tells his stepmother, Dr. Marlena Evans (Deidre Hall) that Kristen DiMera (Stacy Haiduk) is pregnant with his baby! Kristen's age probably will not make Marlena suspicious that the pregnancy is a ruse, since she also became pregnant at around the same age Kristen is now, although sadly she miscarried.
Brady will be able to tell her that the pregnancy is real, although they may not be able to get a paternity test right away, depending on how far along Kristen is. There are now in-vitro paternity tests available, but the expectant mother has to be at least eight weeks along.
DOOL Spoilers – Stefan and Gabi DiMera Spend A Romantic Night Together
Stefan and Gabi Hernandez DiMera (Brandon Barash, Camila Banus) spend a romantic night together in the midst of his mother, Vivian Alamain (Robin Strasser) being on the run after Kate DiMera (Lauren Koslow) miraculously woke up from her near-death coma after Dr. Wilhelm Rolf (William Utay) gave her a shot of his new perfected resurrection serum!
Unfortunately for them, this may be the last night they have together and Gabi will need to make a difficult choice soon. The Days of Our Lives Fall Preview and Weekly Preview videos give viewers a good idea of the scenario leading up to Gabi's devastation!
Days of Our Lives Spoilers – Ciara Brady And Ben Weston Think Jordan Ridgeway Tried To Kill Ciara
Elsewhere, Ciara Brady (Victoria Konefal) and Ben Weston (Robert Scott Wilson) tell Detective Lani Price (Sal Stowers) that they think Ben's older sister, Jordan Ridgeway (Chrishell Hartley) tried to kill Ciara! Viewers will recall from Wednesday's episode that Ciara barely missed being run over by a speeding car near Brady's Pub!
Considering Jordan's past attempts on Ciara's life, that is a pretty good theory for a couple of civilians! Lani will likely investigate and see if any more witnesses to the incident can be found!
Days of Our Lives Spoilers: Ben Knows Jordan Is Stalking Ciara – What Will He Do? @celebratesoaps https://t.co/SynGQCRCim #Dool #Days #daysofourlives

— SOS/CTS/HH (@SoapOperaSpy) October 1, 2019
DOOL Spoilers – Tragedy Strikes!
As shown in the Days of Our Lives weekly preview video, tragedy strikes as Vivian attempts to flee Salem, with Detective Rafe Hernandez (Galen Gering) having ensured that there is an APB, or All-Points Bulletin out and a BOLO, or Be On the Look Out.
This means all Salem Police personnel will know to detain, and if at all possible, apprehend Vivian! After Lani takes Ciara and Ben's report, it looks like she is out and about and possibly on the way to Horton Town Square to question people about the speeding car incident where Ciara barely missed being run over, and spots Vivian in a hooded cape! She trains her gun on her and tells her to stop, but Vivian then pulls her gun out, and suddenly Stefan jumps in between Lani and Vivian, and is shot as Lani pulls the trigger!
Stay tuned to Days of Our Lives and keep checking Days of Our Lives spoilers frequently for all the latest news, updates and developments!