Days of Our Lives Spoilers: Julie Shocked To Discover Gabi Gave Her Stefan's Heart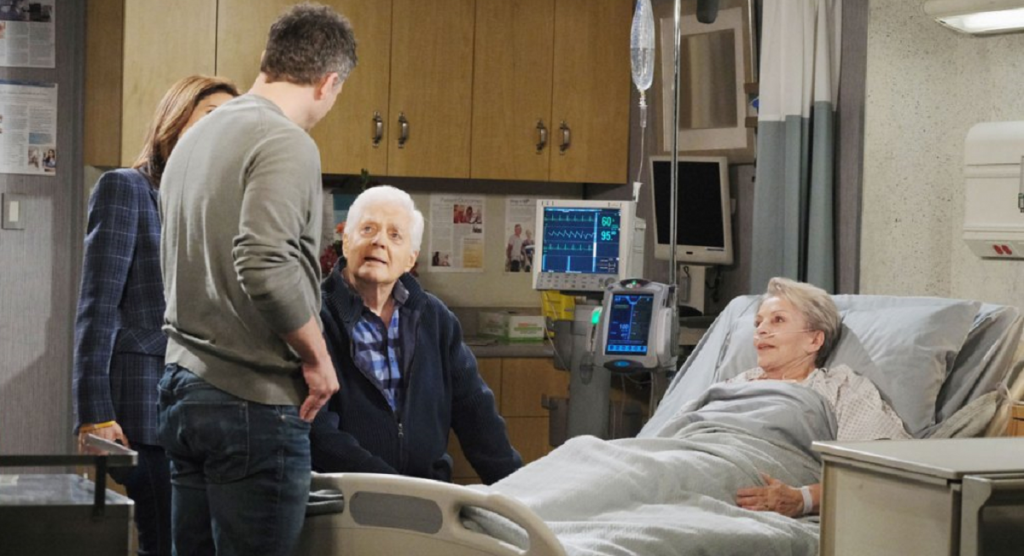 Days of Our Lives (DOOL) spoilers tease that Julie Williams (Susan Seaforth Hayes) will feel lucky to be alive. As DOOL viewers know, Gabi DiMera (Camila Banus) agreed to give Stefan DiMera's (Brandon Barash) heart to Julie, which saved her life.
For a while there, it didn't look like Gabi would agree to the transplant given her terrible history with Julie. She finally she relented however, after forcing Lani Price (Sal Stowers) to beg on her knees.
It was a big moment for Julie's family. Their patriarch was literally on death's door at the time of Stefan's death. The transplant won't mean that Julie's totally out of the woods, and according to DOOL spoilers she'll have some difficulties with Stefan's heart at first. But she'll be alive, and Julie's family will be truly grateful.
Days Of Our Lives Spoilers – Julie Williams Stunned When She Hears The News
Of course, they'll have to explain everything to Julie when she awakens, which could get interesting. DOOL viewers will remember that Julie and Gabi haven't gotten along for years.
Julie has never gotten over the fact that Gabi is the person who killed her grandson Nick Fallon (Blake Berris). And then there's the fact Gabi left Julie on the ground and walked away when Julie was having her heart attack. Things were pretty bad between them.
But that all may be changing soon. Days of Our Lives spoilers indicate that Julie will be shocked when she wakes up from surgery and learns exactly where her heart came from. She'll be stunned to realize that she has Stefan's heart, and that Gabi agreed to the transplant. Julie will be grateful, and this might just be the beginning of a whole new chapter for the two women.
Days Of Our Lives Spoilers – Julie Williams And Gabi DiMera Grow Closer
They may not suddenly become best buddies, but it does seem that they'll find a way to get past their past differences and pettiness. And it's a good thing, because Julie really won't need the stress of ongoing conflict with her new heart.
Days of Our Lives Spoilers: Hope Remembers Attack – Reminded of Stefano DiMera – Dr. Rolf's Revenge Is Just Beginning https://t.co/vOY7ibqgt0 pic.twitter.com/WlXnKtYfbX

— SOS/CTS/HH (@SoapOperaSpy) October 14, 2019
According to DOOL spoilers, she'll experience some bradycardia, or an unusually slow heartbeat, once she gets Stefan's heart, so that will be something she'll need to keep an eye on. We'll see just how close Gabi and Julie become in the wake of the transplant. But they will reportedly experience a change for the better, which will be great to see.
Do you think it will all lead to the two women becoming close friends? As always, more detailed spoilers for the week in question will appear here on Soap Opera Spy, where there will be more clues and hints over exactly what's going on.