Bold And The Beautiful Spoilers: Wyatt Explains Why His Relationship With Sally Has Become Complicated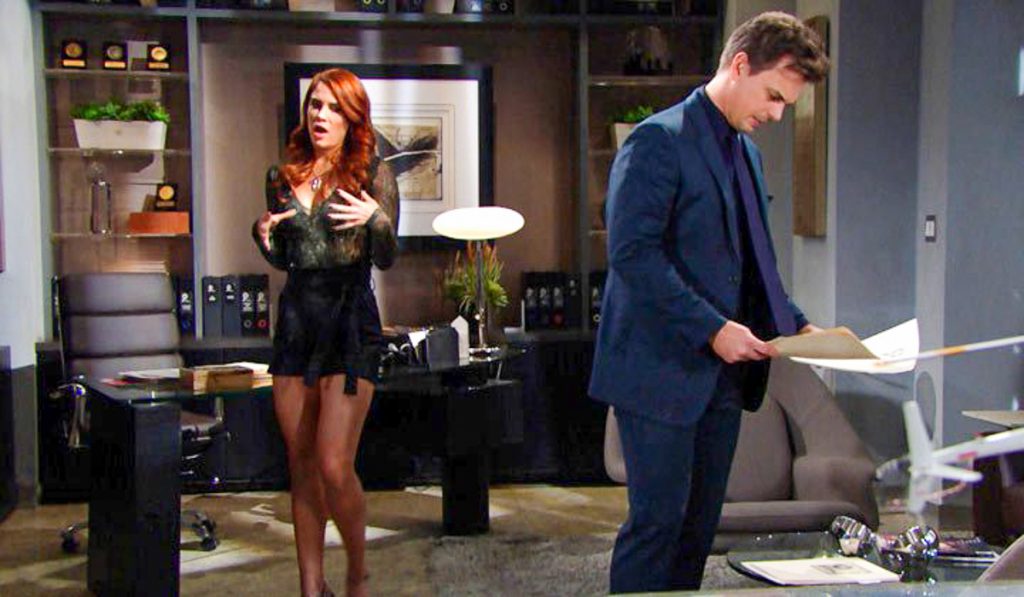 The Bold and The Beautiful spoilers tease that has gotten so complicated in an upcoming episode of The Bold and The Beautiful!
Bold & The Beautiful Spoilers – Sally Spectra Made A Massive Faux Pas – Or Was It A Freudian Slip?
Viewers of The Bold and The Beautiful will recall from recent episodes that Sally made a massive faux pas in a conversation with her fiancé Wyatt the day that Liam came back to work at Spencer Publications after having worked for Forrester Creations for a while. The family had had a welcome back party for Liam, and she had walked in on the tail end of it, and then everyone got back to business and after it was time to go home, Wyatt and Sally talked over the activities of the day, and Sally accidentally called Wyatt — Liam!
She covered sufficiently, saying it was just a silly distracted goof because it the day at work had been all about Liam, and meant nothing by the goof. However, Wyatt honed in on it as a Freudian slip from the days in the past when Sally had a huge crush on Liam, and could not let it go!! No matter how much Sally tried to reassure Wyatt that he is the only man for her now, he wouldn't believe her!
B&B Spoilers – Sally Spectra Has Her Own Reasons To Doubt Wyatt Spencer's Commitment As Well
Sally could have her own reasons to doubt Wyatt's commitment to her as well, and whether he carries his own torch – for Flo Fulton (Katrina Bowden)! Sally has many more reasons to doubt Wyatt than he has to doubt her. There was one time Liam kissed Sally, while he was still married to Steffy Forrester (Jacqueline Macinnes Wood) and that wasn't even a serious kiss. Sally had a schoolgirl crush on Liam years ago. Wyatt on the other hand, was the high school sweetheart of Flo, and there is a saying that one never gets over one's first love; Wyatt and Flo were each other's first loves!
When Wyatt proposed to Sally, it was impulsive and romantic, but he still had feelings for Flo. Because of certain things that Flo had done, he didn't think he could see a future with her anymore, but then she stepped up and donated a kidney to Katie Logan (Heather Tom) and saved her life; that went a long way towards redeeming Flo in Wyatt's eyes. Wyatt loves Sally, but he's never put an engagement ring on her finger or discussed setting a wedding date, so Sally has her doubts about him, commitment wise, as much as he has of her for much less reasons!
The Bold and the Beautiful Spoilers: Thomas Teams Up With Hope #BoldBeautiful #BoldandBeautiful #BoldandtheBeautiful #CBSSoaps #CBSDaytime #DaytimeSoaps #DaytimeTV #DaytimeDrama https://t.co/pqt3gKO3Bv

— SOS/CTS/HH (@SoapOperaSpy) December 10, 2019
Bold & The Beautiful Spoilers – Wyatt Spencer Tells Liam Spencer That Sally Spectra Called Him By Liam's Name
Wyatt brings all the doubts he is reading into Sally's simple slip of the tongue and tells Liam! This could become a brother against brother if Liam can't convince Wyatt that there is nothing between himself and Sally, and ever was anything serious between them. The kiss of Sally wasn't even about Sally herself, and he may never have even known about her schoolgirl crush on him! The conversation, however should prove interesting and possibly humorous for viewers!
Stay tuned to The Bold and The Beautiful and keep checking The Bold and The Beautiful spoilers frequently for all the latest news, updates and developments!