Bold And The Beautiful POLL: Will Liam Leave Steffy Again? Vote Now!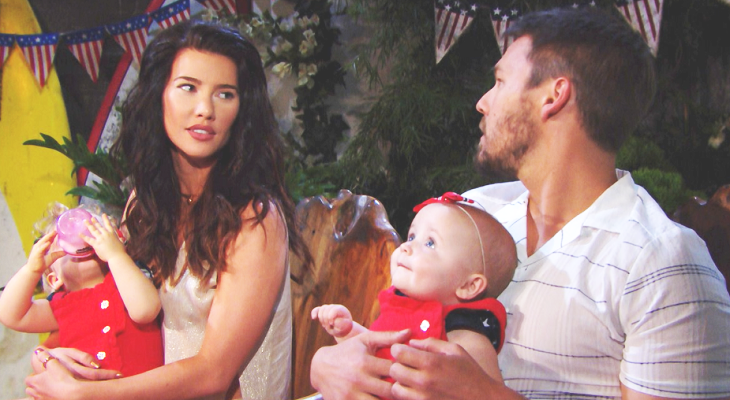 Liam Spencer (Scott Clifton) often has trouble choosing between two impressive ladies on the Bold and the Beautiful. Even though he just returned to Steffy Forrester's (Jacqueline MacInnes Wood) home and romantically reconnected with her, will Liam leave her again?
The question about the seeming potential for a full Steam reunion isn't asking if it will ever happen, as it's understood that soap time leads to breakups and reconciliations. Instead, the point to consider is if Liam will make this choice in the relatively near future, meaning the next few weeks or months.
Steffy never stopped loving Liam. With all the talk of Hope Logan's (Annika Noelle) selflessness, which is surely true based upon current circumstances, Steffy is the kind-hearted person who allowed Lope to get back together last summer.
Bold And The Beautiful Spoilers – Steam Put Through Bill Spencer's Wringer
As B&B fans recall, Steffy and Liam were put through Bill Spencer's (Don Diamont) wringer. Steffy impulsed into a few hours with Bill, Liam learned what happened later when finding a printed test result, and that edition of Steam was ultimately destroyed.
However, all parties in the above referenced triangle have since made amends. Steffy was also happy with her life and in having chosen to raise Liam's known daughter, Kelly Spencer (Zoe Pennington and Allison Marcia Sweeney) alone.
Then, Reese Buckingham (Wayne Brady) stole Beth Spencer (Madeline Valdez and River Davidson) and used Flo Fulton's (Katrina Bowden) help to transform her into Phoebe Forrester, who Steffy is raising.
Bold And The Beautiful Spoilers – Choice To Be Made When Truth Comes Out
Any of the people who are keeping that incredible secret could spill the truth, or be found out. One person in that group, Thomas Forrester (Matthew Atkinson), may also make an unforced error due to his increasingly frantic plans to secure Hope as his wife.
#BoldandBeautiful Spoilers Monday, July 15: Hope's Wedding Date Decision Leads to Drama – Ridge Defends Thomas @celebratesoaps https://t.co/DdPhqtGJRY

— SOS/CTS/HH (@SoapOperaSpy) July 13, 2019
With however the baby swap arc concludes, Liam will have a choice to make. He may feel compelled to go back to Hope, if she'll have him, or stay with Steffy. Of course, Steffy could be generous again and encourage him to return to Hope.
Fans of the Bold and the Beautiful rightfully express their opinions on a regular basis. So, will Liam leave Steffy again? Please vote in our poll below!
 We have a very eventful week heading our way, so make sure to stay tuned to CBS The Bold and the Beautiful. Don't forget to check often with Soap Opera Spy for all your latest spoilers, news, updates, and much more!