The Young and the Restless (YR) Spoilers: Tessa Delivers For Devon – Mariah Flattered and Offended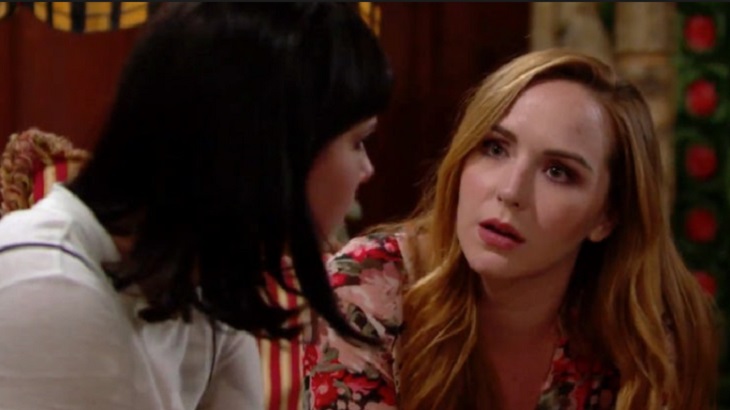 Tessa (Cait Fairbanks) was tasked by Devon (Bryton James) with a pressured order on 'The Young and the Restless'. She needed to begin writing hit songs as soon as possible. Clearly that's not how the process works, as all creative souls know. So Tessa took a shortcut that will produce mixed results.
Mariah (Camryn Grimes) began journaling recently. Using a prop that evoked memories of Dylan's (Steve Burton) overseas diary, Mariah has been physically penning words to help her cope with life in a notebook.
Devon was a friend, then he developed into more than that, for awhile. Mariah wasn't certain why her feelings were shifting, but she shared her awareness awhile ago with Sharon (Sharon Case) and Miss Porter. Doing so didn't lead to progress, yet.
Related: Y&R Eric Braeden Hits The Red Carpet With Son Christian Gudegast For His New Movie
Tessa saw that Mariah's journal was there for the taking at Crimson Lights. Desperate to fill Devon's lyrical quota, Tessa snatched said notebook from Mariah's handbag and bolted out the back door of the coffee house. As hardcore Y&R fans recall, Tessa passed through the terrace where Nikki (Melody Thomas Scott) first saw her playing a guitar last year.
Devon set Tessa up in his office and was pleased to see that she was making progress on a new song. He wanted to hear her initial work, but Tessa balked. She wanted to complete the tune and then present it to her streaming producer in-full.
Mariah nearly learned of the inspiration for Tessa's tune. But Grimes' conflicted character declined to do so when asked by Devon to join him at a listening secession where Tessa's music would be showcased.
LOVE THE YOUNG AND THE RESTLESS? SIGN UP FOR OUR Y&R NEWSLETTER!
However, as soon as Mariah becomes aware of Tessa's muse she'll be flattered and offended. It will be great to learn that Tessa was inspired by her written words. But it will be simultaneously offending that this song writer didn't ask for permission to view and then use her words. How this musical revelation will impact Noah (Robert Adamson), if it does, is another issue to be explored in the future.
Soap Opera Spy is a leading source for everything linked to 'The Young and the Restless'.
Share your thoughts in the Comments section below, on our Facebook Page,  join our Facebook Group