General Hospital Spoilers: Who Is Ava Jerome's Surprise Visitor?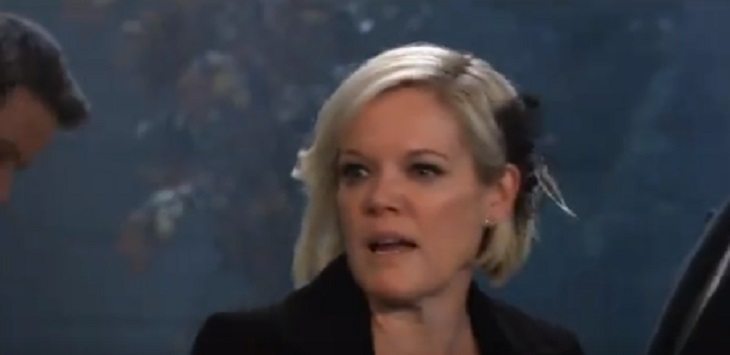 General Hospital spoilers tease Ava Jerome (Maura West) has a surprise visitor in December 12th's episode; she almost turns the visitor away, who has a huge bouquet of what appears to be white flowers; but then changes her mind when she sees who it is.
Could it be her mother, Delia (Ilene Kristen)? General Hospital viewers have been wondering why Delia didn't turn up at granddaughter Kiki Jerome's (Hayley Erin) funeral!
While there have been no press releases indicating that Ilene will reprise her role as Delia, that doesn't mean that it won't be her at the door. Grandma Delia could have missed a flight, or not even known about the bad news unless Julian Jerome (William DeVry) contacted her.
General Hospital Spoilers – Is Delia Back?
Nonetheless, it seems very strange that Kiki's only living grandmother was not at her funeral! She hasn't been seen since Ava herself was presumed dead and showed up at her "funeral" as her previously unknown cousin Denise DiMuccio in a brunette wig!
One has to wonder what Ryan Chamberlain (Jon Lindstrom) would think if he found out about that escapade; it was not one of Ava's finest moments, although it was a good way to avoid the police for a while!
General Hospital Spoilers: How Could Daisy Be Connected To Sam's Past And Leland Powell? https://t.co/nT16WBuJYi pic.twitter.com/0XMo69wKUu

— CelebratingTheSoaps (@celebratesoaps) December 12, 2018
LOVE GH?  SUBSCRIBE TO OUR GENERAL HOSPITAL NEWSLETTER, HERE!
General Hospital viewers do have other suspects for Ava's mysterious bouquet-bearing visitor though, including Dillon Quartermaine (Robert Palmer Watkins). However, Dillon didn't have enough of a relationship with Ava to want to bring her a huge bouquet of flowers, neither would his presence have been appropriate since he moved away and dumped Kiki apparently for another girl!
General Hospital Spoilers – A Blast From The Past?
Even Morgan Corinthos (Bryan Craig) has been discussed as a possibility, but that doesn't seem likely; he would want to reveal himself to his parents, especially his mother Carly Corinthos (Laura Wright), not show up out of the blue at Ava's door!
Although GH could surprise us, Delia seems to make the most sense! Stay tuned to General Hospital and keep checking General Hospital spoilers frequently to see what happens next!
As always, more detailed spoilers and a full collection of pictures for the week in question will appear here on Soap Opera Spy, where there will be more clues and hints over exactly what's going on.
General Hospital airs weekdays on the ABC network.
---
Read more news, spoilers, and gossip on our General Hospital homepage
Want up-to-the-minute soaps news, spoilers, and gossip on your social feeds? Just hit 'Like' on our Soap Opera Spy Facebook page