Days of Our Lives Spoilers Tuesday, October 9: Eric Fumes, Shooter Shocker – Brady & Kristen Sleep Together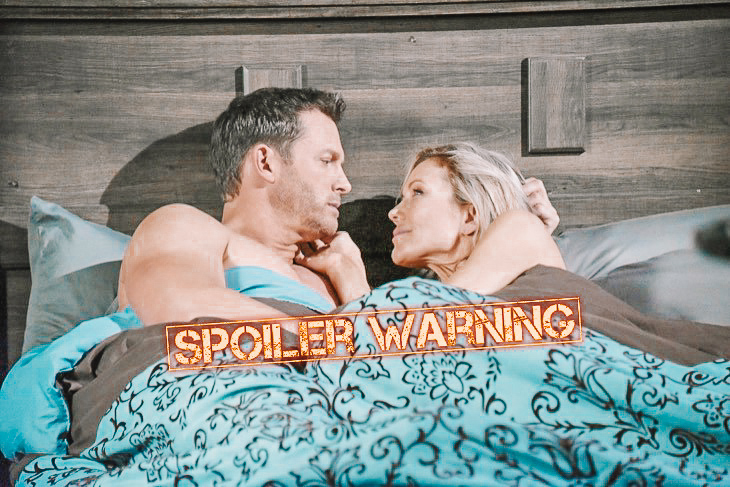 "Days of Our Lives" spoilers for Tuesday, October 9, tease that Brady (Eric Martsolf) will make a bold move to prove his love. He took Kristen (Stacy Haiduk) up on her offer to run away together, but he did it with a goal in mind. Brady doesn't really want a future with the woman who paralyzed Paul (Christopher Sean) and tried to kill Marlena (Deidre Hall). He just wants to learn her secrets.
Of course, this is risky business. Kristen is extremely dangerous, so Brady will have to be careful as he plays the game. "Days of Our Lives" spoilers say Kristen may doubt Brady's feelings for her. That's reasonable since she's been so cruel to his family. Kristen might argue that Brady needs to prove his desires, so they'll end up hitting the sheets. That should be enough to keep Kristen content for now.
In the meantime, DOOL spoilers state that Lani (Sal Stowers) will battle jealousy. She'll notice Eli (Lamon Archey) and Sheila's (Tionne "T-Boz" Watkins) growing bond, so expect quite a showdown. Lani may surprise herself by being so protective of Eli. She'll rip into Sheila and hopefully reevaluate her feelings. Lani needs to accept that she wants more than friendship from her former "baby daddy."
Other "Days" spoilers say John (Drake Hogestyn) will deliver the news of his discovery. He viewed the security tape with Marlena (Deidre Hall) and Sami (Alison Sweeney), which led to them to the mystery shooter. The Salem PD will be able to confirm Xander (Paul Telfer) as the second gunman soon enough.
Xander will share the shooting shocker with Eric (Greg Vaughan) as well, but first he'll discuss his new marriage. He'll push Nicole (Arianne Zucker) to flash her bling and explain that they tied the knot. "Days of Our Lives" spoilers say Eric will be absolutely horrified. You can bet he'll lash out when he realizes Nicole was blackmailed once again.
Afterward, Xander will throw in the shooting revelation and even plan to murder Eric. Once Nicole begs Xander to spare his life, Eric will get a chance to leave. He'll take it, but he'll return to see Nicole later this week. They'll work on a plan to get Xander out of the picture permanently, so some deadly mayhem could be brewing.
LOVE DAYS OF OUR LIVES? SIGN UP FOR OUR DOOL NEWSLETTER!
It sounds like the excitement's about to rev up. We'll give you updates as other "Days" details and rumors emerge. Stick with DOOL and don't forget to check Soap Opera Spy often for the latest "Days of Our Lives" spoilers, rumors, updates and news.