The Young and the Restless' Sharon McAvoy (Sharon Case) and Scott Grainger (Daniel Hall) have become really good friends since his arrival in Genoa City. Now, will they take it to the next level?
Y&R spoilers tease that Scott Grainger asks Sharon McAvoy out on date. Scott is very attracted to Sharon and would like to get to know her better. Unlike everyone else, he feels Sharon does not judge him or have an ulterior motive to be with him. He wants to explore things with her and see if they can go any further.
Scott was not very happy with the fact that his mother tried to set him up with her best friend Phyllis Abbott (Gina Tognoni). Although, we did see them kiss and almost take it a little to far while drunk. It's a good thing that Kevin Fisher (Greg Rikaart) walked in and interrupted them when he did because they both would have probably had regrets.
Related: Are You Team Victor or Team Nikki? Vote!
Y&R's Scott Grainger has yet to learn about Sharon's history. He has no clue how Sharon has lied and deceived those close to her. This could definitely be the reason that she likes to be around him because he does not know of her past so therefore she does not feel judged by him.
Affiliate links included below. Thanks for your support!
Lauren Baldwin (Tracey Bregman) is not going to be happy about her son's choice in women. She will try to persuade him to stay away from Sharon, but it will not stop him. Scott is a grown man and he is going to do what he wants. Scott is not at all scared off from wanting to date Sharon. If he has proven anything it's that he is not afraid of danger, even if that danger just happens to be falling in love with Sharon.
Related: A Week Of Passion – Billy and Phyllis Make Out – Ravi and Ashley Kiss – Scott and Sharon Date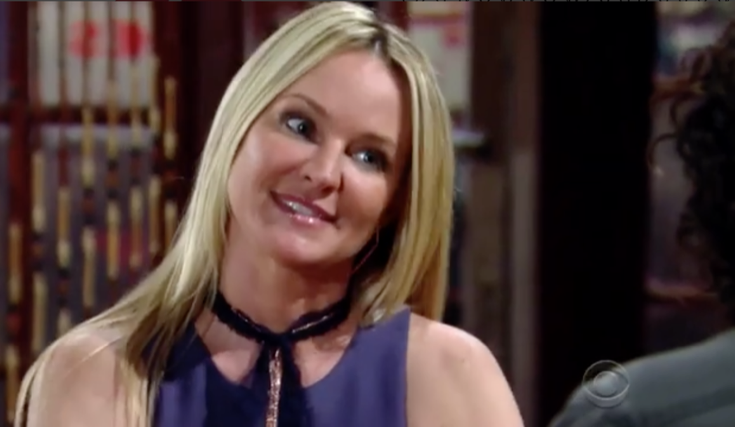 So Y&R fans do you think Scott and Sharon would make a great couple? Everyone deserves happiness, right? Make sure to stay tuned to CBS's "The Young and the Restless" to see what the future holds for the two. Don't forget to check often with Soap Opera Spy for all your latest Young and Restless spoilers, news, updates, and much more.
Share your thoughts in the Comments section below, on our Facebook Page,  follow our Twitter Account or Head over to our Facebook Group To Talk Soaps Daily