EastEnders News: Samantha Womack Looks NOTHING Like Ronnie Mitchell Now!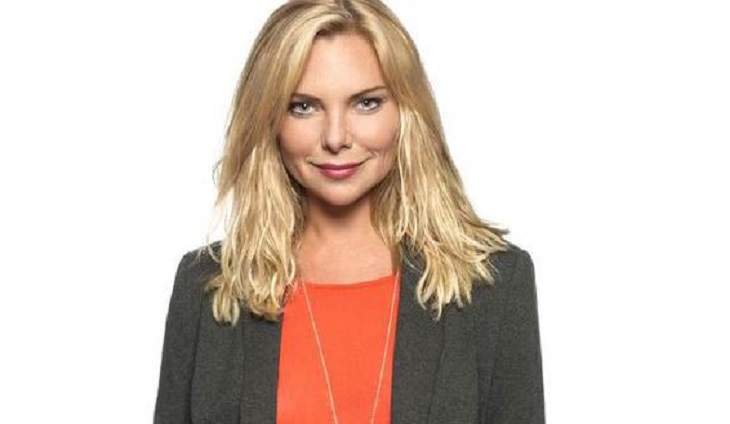 There's been an unconfirmed sighting of "EastEnders," fave Ronnie Mitchell wandering about town with tar black hair, looking disoriented. Could she have survived her drowning, changed her appearance and be suffering from amnesia? Definitely maybe if she were still on the BBC One sudser! But sadly, fans must resign themselves to the fact that fair Ronnie is truly gone (at least for now) as her portrayer Samantha Womack has moved on to other projects.
Womack's new look is for an exciting new role playing a member of the Addams Family. She has transformed into mean girl Morticia for the Addams Family musical comedy. Won't it be fun to see the bubbly blonde play a raven haired meanie?
Related: EastEnders Spoilers: Shock Pregnancy for Lauren Branning After Steven's Betrayal?
The musical is Womack's first role since departing the popular soap, and she showcased her new look on Twitter, leaving fans amazed at her drastic alteration. "Mmmmmmmm Morticia feeling Sassy," she tweeted with a close-up of her dramatic new hair and makeup. So, would you have recognized fair-haired Womack if you didn't know it was her? One fan tweeted, "A fabulous photo – you are perfect for the role."
Fans are still reeling from the astonishing double departure of Ronnie and sister Roxy. The shocking storyline saw Ronnie die on her wedding day. The newlywed drowned after getting bogged down in a hotel swimming pool, her beautifully voluminous wedding dress proving a deadly fashion choice.
Mmmmmmmm Morticia feeling Sassy😈 pic.twitter.com/QG0h84p121

— Sam Womack (@Sam_Womack) April 26, 2017
Mirroring her fans' sentiment, Womack tweeted that she was devastated by the tragic fate that befell Ronnie and her sister. The star wrote that she was, "honestly broken," and has sympathized with viewers who felt blindsided by the deaths.
Related: EastEnders Spoilers: War Brewing In Walford – Shirley Carter Discovers The Truth About Max Branning's Revenge Plan?
Meanwhile life goes on, and you now have a chance to see Womack perform live in, The Addams Family musical which opened last week. The show premiered in Edinborough, and will soon go on a tour of the UK including stops in Dublin, Cardiff, Birmingham, London, and other cities.
Share your thoughts in the Comments section below, on our Facebook Page,  join our Facebook Group