Days of Our Lives Spoilers: Will Bonnie Finally Be Exposed?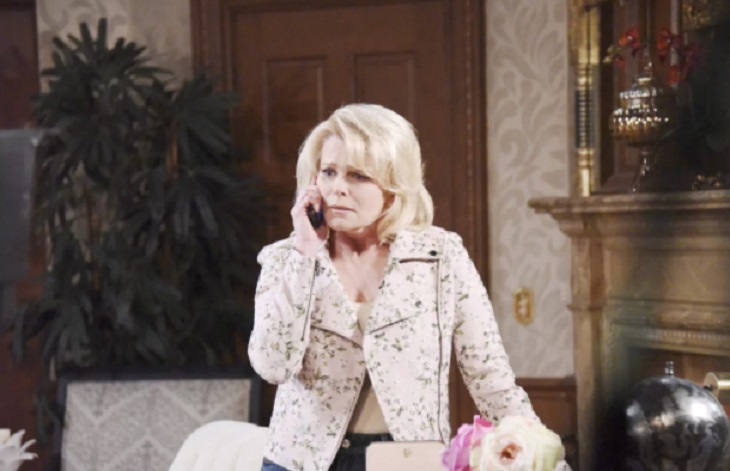 "Days of Our Lives" spoilers for the week of September 11 reveal that Hattie Adams (Deidre Hall) will contact Justin Kiriakis (Wally Kurth.) What is the reason for the imposter reaching out to him? Does she just need a good lawyer or will she expose Bonnie Lockhart's (Judi Evans) secret?
Related: Adrienne Gets Help – Andre's Shocking Discovery – Bonnie's Bold Move
The doppelganger game is over for Hattie. She has been found out, thanks to Paul Narita (Christopher Sean) and Hope Brady (Kristian Alfonso.) She will be placed under arrest and everyone will know about her impersonation scheme.
However, Bonnie is still an issue and the real Adrienne Kiriakis remains behind bars. "Days of Our Lives" spoilers for September 13 tease that Hattie will contact Justin, but why? Details were not revealed, but it probably has to do with getting legal representation. We came to this conclusion because on September 14, Bonnie begs Hattie to keep her identity a secret.
This is a huge request for Bonnie to make. After all, Hattie will have to face the consequences while Bonnie remains free. In Hattie's mind, it probably won't seem very fair. Especially since the scheme wouldn't have happened in the first place if it weren't for Anjelica Devereaux (Morgan Fairchild.) There is also the fact that Bonnie wouldn't be a free woman right now if it weren't for Hattie. Remember, she busted the inmate out of prison and put Adrienne in her place.
"Days of Our Lives" spoilers imply that Bonnie's scheme will continue for at least a few more weeks. The real Adrienne will land herself back in solitary confinement after receiving news from Sheila (Tionne "T-Boz" Watkins.) She is probably informed that their deal is off and she can rot in prison. Adrienne's small slice of hope will be shattered.
Also, expect Bonnie to share a bit too much information with Victor Kiriakis (John Aniston.) She has already begun flirting with him. However, he is no fool. He loves Maggie (Suzanne Rogers.) Plus, it is highly suspicious that she would be so touchy-feely with Victor considering their rocky history.
Related: Eric Decides To Leave Salem, Find Out Why
Even if Hattie does keep Bonnie's secret, she won't stay quiet forever. If she is sent back to prison, she will encounter Adrienne. Depending on how Adrienne handles Marlena's imposter, it could bring everything out in the open.
Affiliate links included below. Thanks for your support!
Keep watching the NBC soap and keep checking in with Soap Opera Spy for the latest "Days of Our Lives" spoilers, updates and news.
Share your thoughts in the Comments section below, on our Facebook Page,  join our Facebook Group