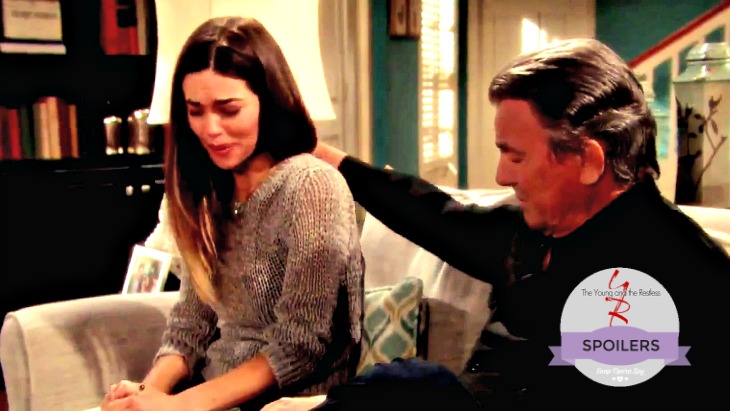 Victor Newman (Eric Braeden) was released from prison on 'The Young and the Restless', which is outrageous considering the totally justified 10-year sentence he received just four months ago. However, the 'Moustache' has reclaimed his throne at Newman Enterprises now that he's been put back into the general population. Victoria's (Amelia Heinle) role with the company has subsequently shifted, which provides her with an opportunity to rebalance personal issues.
Victoria recently went to the hospital where Victor was recovering from a gunshot wound that Ian Ward (Ray Wise) inflicted. While there she was advised that her efforts as the acting head of Newman Enterprises were appreciated, but that her father would naturally be back at his desk after a projected release from Walworth. Viewers of 'The Young and the Restless' who've had similar work-related experiences were familiar with the gobbledygook that Victor spewed.
You Might Also Like —> Chloe Laughs At Adam's Incarceration, Chelsea Throws Madwoman Out – Billy's Affair Stuns Jill
A condescending corporate squeeze can engender a philosophical response. So, Vickie will likely use her soft-peddled demotion to reexamine her professional and, more importantly, personal life. Clearly, her children represent the best part of her day and greatest responsibility. With whatever romantic developments lie ahead, Johnny (Holden and Ryan Hare), Katie (Sienna Mercuri), and Reed (Max Page) will always represent her deepest responsibilities.
Travis (Michael Roark) may have sailed off forever, or he's been placed on a purposeful leave by the writers at 'The Young and the Restless'. Billy (Jason Thompson) is currently involved with Phyllis (Gina Tognoni), but that pairing could disintegrate in an instant. So, there are at least two men who Vickie has options with moving forward unless she decides to take a break from roller coaster love interests.
You Might Also Like —> Jack's Cavalier Attitude Pushes Phyllis To The Edge – Furious Her Husband Won't Battle Victor
While Vickie has solid business experience, an honest assessment of her most recent reign at Newman Enterprises would likely yield a mixed work review from most supervisors. It's true that she willingly stepped into a chaotic situation. However, she didn't focus fully on business during her tenure which allowed some serious, still unresolved, problems to develop and fester. Victor's return to the executive suite will enable Vickie to refocus, while also allowing her to work in a meaningful position of responsibility with some company, possibly at Newman.
Soap Opera Spy is a leading source for everything linked to 'The Young and the Restless'.
Share your thoughts in the Comments section below, on our Facebook Page,  join our Facebook Group or Head over to our Discussion Board to Talk Soaps Daily!