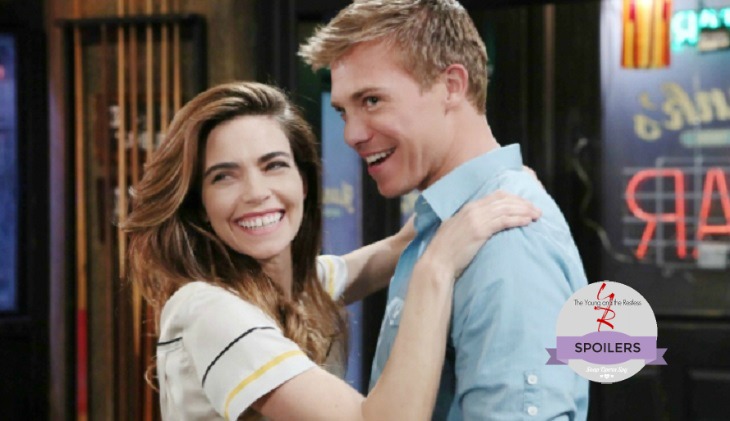 Billy (Jason Thompson) genuinely cares about his children on 'The Young and the Restless'. And, he does have their best interests at heart. But, Vickie (Amelia Heinle) knows better than anyone that her ex-husband is also troubled. Addicted to recklessness, he commits foolish acts like a latch key kid who's home alone two hours every weekday after school before mommy arrives. For each reason noted and others that will be, Vickie moved on to Travis (Michael Roark), who's brought fun back to her life.
Co-parenting is challenging. But, it can work if both parents are consistent. The last word written in the previous sentence is not one linked to William Abbott. So, Vickie found someone who appears, at first blush, to be living in calm waters.
Related: John Abbott's Visit Can't Solve Jack's Main Problem
Travis doesn't pursue confrontation. In fact, he's sought to avoid it since first appearing in Genoa City. Mr. Crawford walked away from Wall Street money, opting instead for small business ownership. Much to her good fortune, Vickie happened upon his establishment one day and 'Tricky' quickly emerged.
To be fair, 'Villy' had its early moments. Under the direction of Billy Miller, that Billy Abbott shared more than constant chaos with the first deep love of his life. Yet, gambling, drinking and other abnormalities proved too much for Vickie to bear. Plus, Victor's (Eric Braeden) interference never helped.
David Tom didn't reprise his role for long enough for that Billy to damage Vickie in any meaningful way. Burgess Jenkins projected the potential to be a gentler individual. But, toward the end of his run Billy laid heavy coin on a losing horse. That led to a beating by a bookie's muscle man and being accidentally hit by Noah's (Robert Adamson) car, which ushered in Thompson's bluer Billy version.
Related: GH And DOOL Ratings Plunge, Y&R And B&B Rebound
'Philly' will distract 2016's Billy indefinitely. So, Vickie should have enough personal space to build a stable relationship with her newest catch. Here's hoping that the messy situation she just extracted herself from didn't leave too many lasting marks on her soul. If so, Vickie might inject the Billy-strain into this relationship.
Soap Opera Spy is a leading source for everything linked to 'The Young and the Restless'.
Share your thoughts in the Comments section below, on our Facebook Page,  join our Facebook Group or Head over to our Discussion Board to Talk Soaps Daily!