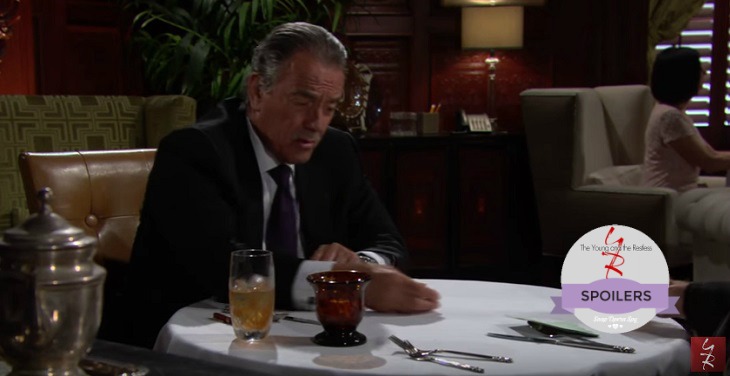 "The Young and the Restless" spoilers for Tuesday, September 27, tease that Jill (Jess Walton) will have an intriguing proposal for Lauren (Tracey E. Bregman). At the park, Jill suggests that Fenmore's can sell Brash and Sassy's new fragrance exclusively. Lauren passes since Jill is too focused matchmaking. Jill gripes that they've developed a good product, but Lauren still isn't interested.
At Victoria's (Amelia Heinle) place, Travis (Michael Roark) playfully shares the bathroom with her. A phone call comes in for Travis from Victor (Eric Braeden). Victoria gets updates on their appointment later and complains. Travis thinks it'll be fine and hints that he can be a little late if Victoria wants to hop in the shower with him.
Related: Phyllis Can't Clean Up Mess – Philly Becomes Best Option
Meanwhile, Lily (Christel Khalil) gives advice to Cane (Daniel Goddard) and Billy (Jason Thompson) about the new ad campaign. Billy shuts Lily down and says that's Victoria's job. Lily decides she won't hang around for bickering. After she exits, Cane scolds Billy for being rude.
Victoria arrives and takes a look at the commercial. She's pleased, so she praises Cane's work. Billy questions Victoria about her approval in private. She points out that Cane isn't their enemy. Billy agrees that Jill is the constant thorn in their side.
Jill finds Cane and indicates that she's not happy with his commercial. He starts joking about Victoria and Billy being in love. Cane teases that maybe they'll take Jill on their honeymoon. Billy and Victoria head off for a drink as they stand together against Jill.
Back with Cane, he talks to the model who appeared in the Brash and Sassy ad. She makes some moves on him, but he stays loyal to Lily. Jill spots him and suggests that she's proud. At Newman Enterprises, Victor speaks with someone over the phone. He states that he needs to know everything.
When Travis arrives, they get down to business. Victor wants to hear Travis' thoughts on Newman. Travis rattles off some important details and points out that the company is vulnerable. Victor appreciates Travis' honesty.
Elsewhere, Hilary (Mishael Morgan) and Devon (Bryton James) consider suing GC Buzz. They talk to Michael (Christian LeBlanc), but he doesn't think they have a case. Devon thinks there could be another solution, so he takes off. Lily walks over and gripes at Hilary for being more interested in Jack's (Peter Bergman) well-being than her husband's. Hilary insists that she intends on being faithful. She hints that Lily's history makes her a hypocrite.
Devon makes his way over to GC Buzz headquarters and tries to talk some sense into the producer. He calls the producer's attention to Jack's pain, but that gets him nowhere. Later, Devon does a follow-up interview and announces that he bought GC Buzz. He fires the reporter on the spot. "The Young and the Restless" fans will be anxious to see the trouble this purchase will stir up.
Related: Jack Abbott Becomes the Bad Guy – Can He Be Saved?
In the athletic club's dining room, Victor hands Travis an offer on a piece of paper. When Victoria and Billy walk in, they wonder what's going on. Billy seems worried, but Victoria feels certain she can trust Travis. She accuses Billy of being jealous since Victor likes Travis more than him.
Travis walks over and says he rejected Victor's offer to work at Newman. They all head out and Victor looks agitated. At the park, Lauren gives Michael the news about Jill's proposal. She seems annoyed, but Michael feels like Lauren could make Brash and Sassy successful.
Lauren dials Jill's number and wonders if the exclusive selling rights are still up for grabs. Will Jill ever drop her agenda and concentrate on the company? Time will tell, but Y&R rumors hint Jill may eventually get what she wants anyway. Stick with the CBS soap to see what's in store.
So Y&R fans, what do you think about these "Young and the Restless" spoilers? Voice your opinion in the comments below and don't forget to check Soap Opera Spy often for the latest "Young and the Restless" spoilers, rumors, updates and news.
Share your thoughts in the Comments section below, on our Facebook Page,  join our Facebook Group or Head over to our Discussion Board to Talk Soaps Daily!