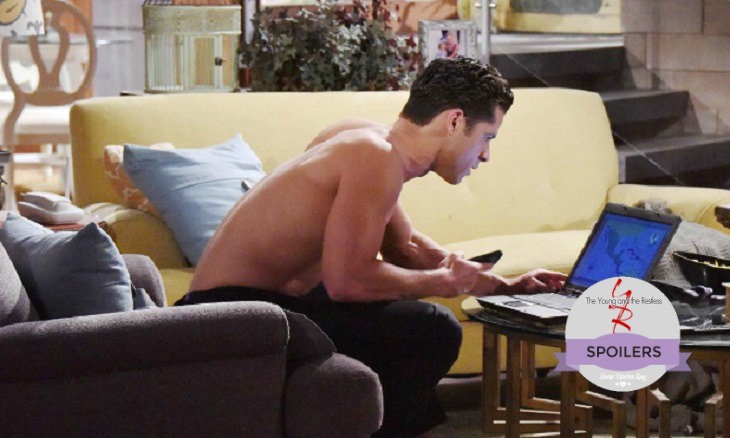 Luca (Miles Gaston Villanueva) may actually love Summer (Hunter King) on 'The Young and the Restless'. But, there will be no love lost with Travis when Michael Roark's returned character learns that Luca is attempting to set him up as a saboteur. However, Victor (Eric Braeden) is onto Summer's fiance and plans to put Adam's (Justin Hartley) frame around Mr. Santori's neck very soon. That's why he's asked Nick (Joshua Morrow) to have Vickie (Amelia Heinle) contact Travis, so he can return to Genoa City and defend himself.
Soap magic, or his private detective, allowed Luca to obtain and then use Travis' Skype number. After reaching him on his boat, Luca pretended to give Travis fair warning about Victor's attempt to pin the oil rig fiascoes on him. Travis was surprised, but maintained a measured distance from the man he physically tangled with over past allegations that were leveled against him.
Related: Chancellor Mansion Has Been Officially Restored For 'Y&R' Fans
Flashing back to earlier this year: Vickie was having a hard time handling her ever-messy personal life and the challenges of running Newman Enterprises while her dad was in jail. So, one day she walked into a tavern on the edge of town and met Travis. Fans of 'The Young and the Restless' were somewhat surprised to see him leave this summer, as he'd only been in town for a short period of time.
The quick formation of 'Tricky' appeared to give Vickie a way off the 'Villy' roller coaster. She didn't know it, but Billy's (Jason Thompson) romantic interests had shifted to Phyllis (Gina Tognoni), which meant that the odds of reuniting were nonexistent. Travis offered a fresh start, but, like all characters on 'The Young and the Restless', he also had some issues.
Luca's aggressive nature enabled him to hire a private detective, who captured digital evidence of 'Tricky' in a few publicly romantic situations. Luca used that bait to pressure Vickie into moving away from her better judgment, which made her even more suspicious of his motives. But, Luca's actions didn't dissuade her personal interest in Travis.
Because a strain of paranoia courses through her veins, Vickie initially allowed herself to be swayed by rumors that Travis was responsible for the aforementioned oil rig scenarios. Travis felt betrayed when Vickie jumped to conclusions but, having worked on Wall Street in the past, was familiar with how the elite think. Encouragingly, 'Tricky' was able to reach a rather rapid rapprochement and resolved their differences.
Related: Kevin Hopes to Clear Chloe – Jack Confronts Phyllis About Her Lies – Dylan's Actions Puzzle Mariah
Travis decided to sell his business and ask Vickie, and her children, to accompany him on a sail boat trip around the world. She declined, but appreciated his heartfelt offer. Now, Nick's request for her to contact Travis, so he can defend himself against Luca's latest assertions, also serves to reopen the potential for 'Tricky' to become Y&R's newest power couple.
Soap Opera Spy is a leading source for everything linked to 'The Young and the Restless'.
Share your thoughts in the Comments section below, on our Facebook Page,  join our Facebook Group or Head over to our Discussion Board to Talk Soaps Daily!