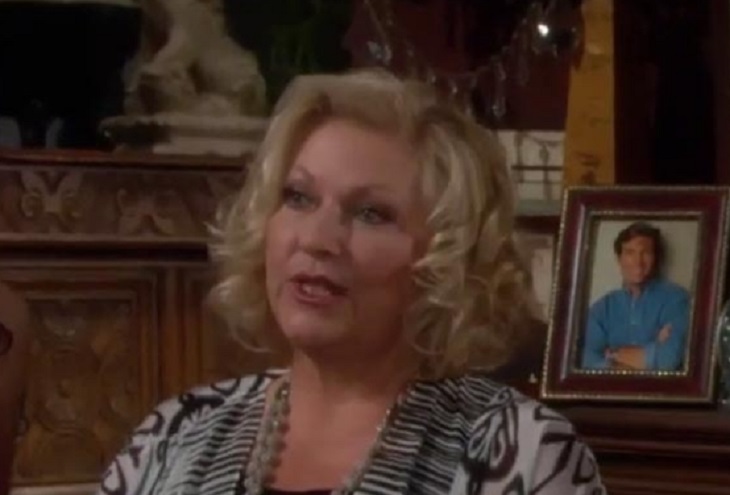 'The Young and the Restless' spoilers suggest that it's time for Traci Abbott [Beth Maitland] to come home to Genoa City. Traci has always been the calm rational Abbot sibling and someone needs keep Jack Abbott [Peter Bergman] and Billy Abbott [Jason Thompson] from killing each other.
When Jack found out Billy was having an adulterous affair with Phyllis Abbott [Gina Tognoni] all hell broke loose. Jack has a temper, but the oldest Abbott sibling can usually keep a lid on it. Not anymore, Jack is out of control. Even though pushing Phyllis's fall down the stairs was a complete accident, Genoa City is buzzing about Jack – and words getting around that he's an abusive husband, which isn't the case at all.
Related: Abby's Startling Confession – Sharon Has Tense Visit with Patty – Kevin Aids Dylan's Investigation
Enter Traci, probably the only Abbott anyone will actually believe is telling the truth. If Traci comes home she can sit down with Jack and sort out this entire mess. Mind you, Traci isn't going to let Billy off the hook. When need be Traci can be forceful and she'll tell you exactly what she thinks of your wrong doing.
'Y&R' spoilers reveal that Phyllis is willing to divorce Jack without any fuss or muss. But Jack has to keep Phyllis on at Jabot. If anyone can keep Jack from lashing out at Phyllis over this condition of their divorce, it's Traci. Jack may be hell bent on dumping Phyllis in the mailroom just to meet her demands, but Traci might get Jack to see how valuable Phyllis is to Jabot – even though Phyllis engaged in a disgusting secret affair with Billy.
Related: Travis' Mysterious Past To Be Revealed – Will Ashley Expose Him?
'The Young and the Restless' fans want to know – where has Traci been during all this turmoil within the Abbott family. In a recent check in with ABC Soaps in Depth Beth Maitland revealed that she has not yet been asked to return to 'Y&R' at this time. The actress is hopeful that TPTB will see the importance of Traci's role in this latest family division.
Share your thoughts in the Comments section below, on our Facebook Page,  join our Facebook Group or Head over to our Discussion Board to Talk Soaps Daily!