'The Bold And The Beautiful' Spoilers: 'B&B' Storylines' Futures In The Hands Of The Kids – RJ, Douglas, And Lizzy Playing Pivotal Roles
Has anyone noticed that the kids seem to be in charge on The Bold and the Beautiful? No fewer than three storylines fueled by the younger generation are resulting in tons of complications for the older generation!
Bill Spencer (Don Diamont) and Brooke Logan (Katherine Kelly Lang) were on their way to the alter until her son RJ (Anthony Turpel) returned from his Ojai boarding school. RJ thinks his mom and dad, Ridge Forrester (Thorsten Kaye), belong together and is telling everyone who'll listen. Listening the most intently is his mom!
And that's bad news for Dollar Bill, who doesn't like being bested by a teenager. This week he gave Brooke an ultimatum: stop your waffling and let's get married!
What will Brooke do? Or better yet, what will young RJ do? Does he hold enough power over Brooke's head to stop her wedding? And if so, what does that say about the strength of her feelings for Bill?
The wind that swept RJ into town also brought Caroline Spencer (Linsey Godfrey) and baby Douglas back to the southland.
Little Douglas is a cutie, but he's being used by Caroline to snag his father Thomas Forrester (Pierson Fode). Caroline is dangling the baby like a carrot, hoping that Thomas will bite and make the threesome a family unit. Since when is it fair to use a baby as relationship bait?
Then there's the specter of a future youngster, throwing a wrench into Zende Forrester (Rome Flynn) and Nicole Avant's (Reign Edwards) relationship. Just the mere suggestion of Nicole being a surrogate again has these two doing an unhappy dance.
It's exciting to see how the youngsters are influencing storylines on the Bold and the Beautiful. There's no telling how the affected relationships will turn out, but it's a sure bet that there will be compelling viewing along the way!
Share your thoughts in the Comments section below, on our Facebook Page,  join our Facebook Group or Head over to our Discussion Board to Talk Soaps Daily!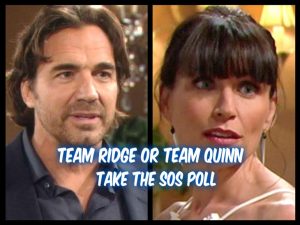 Have Some Fun With This Puzzle! Did you Love Quinn's Dress?

GREAT Bold & Beautiful PRODUCTS!