'The Bold and the Beautiful' Spoilers: Sasha Wants Zende to Put Nicole Behind Him – Brooke's Fears Grow as She Becomes Increasingly Torn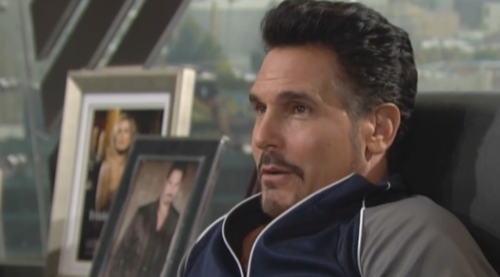 "The Bold and the Beautiful" spoilers for Wednesday, November 30, tease that Steffy (Jacqueline MacInnes Wood) will wonder if Bill (Don Diamont) is really going to get the girl. She'll mention that Brooke (Katherine Kelly Lang) has been gone for quite a while. Bill won't think there's anything to worry about. He'll insist that Brooke is simply saying her last goodbye.
Bill will add that "Mr. Drama" is just dragging out his final curtain call. Ridge (Thorsten Kaye) is certainly doing everything he can to make Brooke see things his way. His sand heart won him some major points. By the time Brooke gets back to Bill's office, she'll wonder who she truly belongs with.
Related: Big Changes At Forrester Creations – Quinn Offers Steffy A Job – Ridge And Rick Forced To Share Position
Bill will sense that Brooke is pretty shaken up. He'll suggest that Ridge must've made Brooke feel selfish about walking away. "The Bold and the Beautiful" preview video shows Bill saying, "You're not being selfish. I'm sure Ridge tried to make you feel that you are, but your happiness is just as important as his."
Unfortunately, Bill's argument could be working against him. Brooke is likely feeling selfish because she's leaning toward Ridge. After all, Brooke's feelings for Bill started all of this. If she hadn't expressed them, Bill probably wouldn't have divorced Katie (Heather Tom). Brooke thinks she owes Bill a life together like she promised.
When Brooke accepted Bill's proposal, she thought she'd marry him and they'd begin their future. Now Brooke's view is shifting. She's starting to believe that Ridge is the man she'll be happy with. Bill will be heartbroken when Brooke chooses Ridge this Friday.
Related: Aaron D. Spears Joins Justin Hartley On 'This Is Us'
Elsewhere, Sasha (Felisha Cooper) will also focus on her future. Now that she knows Nicole (Reign Edwards) is done with Zende (Rome Flynn), she's prepared to make her next move. B&B spoilers say Sasha will try to make Zende understand the situation. She'll hope to convince him that he should put Nicole behind him.
Wednesday's preview video shows Sasha stating, "If she's not willing to give you another chance, then maybe it's time for you to move on." Zende may not go for that idea. He seems to think Nicole will come around sooner or later.
"The Bold and the Beautiful" rumors hint that this love triangle could have a few more twists in store. We'll give you updates as other news comes in. Stick with B&B and don't forget to check Soap Opera Spy often for the latest "Bold and the Beautiful" spoilers, rumors, updates and news.
Share your thoughts in the Comments section below, on our Facebook Page,  join our Facebook Group or Head over to our Discussion Board to Talk Soaps Daily!