'General Hospital' News: Michelle Stafford's New Podcast 'Single Mom A Go Go' Starring Emme Rylan And 'DOOL' Alum Kassie DePaiva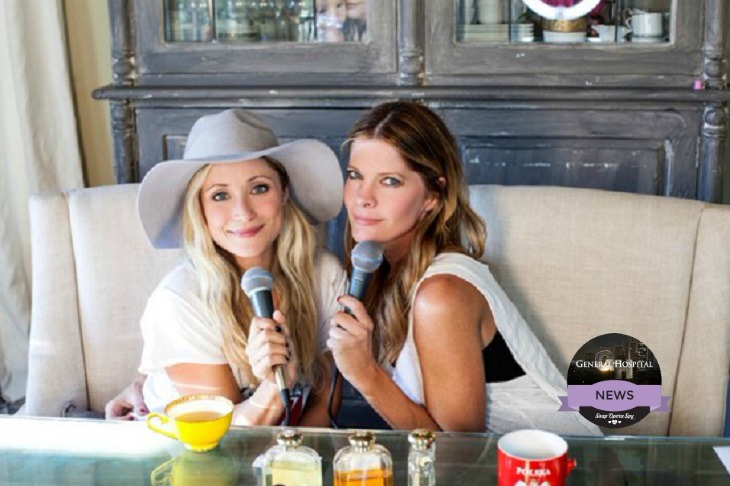 Can't get enough of Emme Rylan as Rocco's mother Lulu Falconeri on 'General Hospital'? Well good news, Rylan's GH co-star Michelle Stafford (Nina) announced via Twitter that two daytime stars, will guest appear on her podcast "Single Mom A Go Go". The podcast will officially air at the end of May, 2016.
Stafford first shared the news on Saturday, saying "2 of these gorgeous women will be doing my podcast 2day who do u think it will be? Follow @SingleMomagogo & find out". Her tweet included images of Tracey E Bregman (Lauren, Y&R), Kassie DePaiva (Ex-Eve Days, Blair, OLTL), Kelly Monaco (Sam, GH) and Emme Rylan (Lulu, GH).
Related: May Sweeps Preview – Hamilton Finn Romance, Griffin's Shocking Reveal, Wedding, Custody Battle, And More!
Stafford later announced that the two daytime stars for the podcast were Kassie DePaiva and Emme Rylan. Since the official announcement Rylan shared a few tweets alerting everyone of how elated she was to be a part of this podcast which according to its Twitter description is "a new podcast brought to you by Michelle Stafford on being a single mom and single chick in LA… this is a non-bashing, non-blocking zone."
Stafford shared an imaged on Twitter with herself and Rylan holding on to microphones smiling and sharing "Is there ANY1 more adorable than this girl? Nope! @EmmeRylan get ready 4 @SingleMomagogo at the end of May". We can't wait to hear this podcast ourselves.
Related: Kristina Gets New Love Interest Aaron – But Parker's Still on Her Mind!
Rylan in her excitement added to news of her guest appearance saying how much she can't wait for the episodes to being airing. Rylan's tweet stated "Not only am I excited to be a guest on @SingleMomagogo I can't wait to hear ALL of the episodes! @TheRealStafford."
The official date for the release of this upcoming podcast aimed at single moms is not yet fully known, but is scheduled for the end of May. So what do you think of this GH fans?
Share your thoughts in the Comments section below, on our Facebook Page,  join our Facebook Group or Head over to our Discussion Board to Talk Soaps Daily!