'Days Of Our Lives' Spoilers: Abigail Badly Burnt In Fire, Chad Rushes To Her Side – Says Ben Is Back!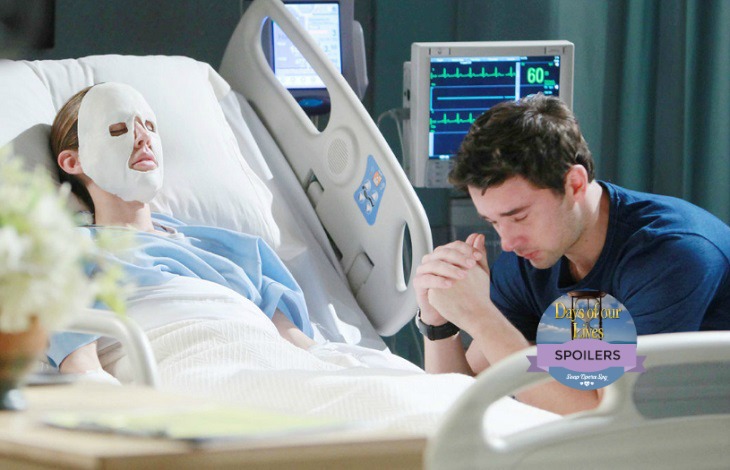 Days of Our Lives (DOOL) spoilers are heating up, and it looks like Abigail (Kate Mansi) will be burned in a fire. Soap Opera Digest reveals that Mansi's last air date is quickly approaching, and the show had to come up with a way to explain Abby's new look. It looks like the best they could come up with is a fire which could alter her appearance.
 Chad (Billy Flynn) receives word from Marlena (Deidre Hall) that there was an accident at Shady Hills. They rush to Abby's side, only to discover that Abby was badly burned in the blaze.
"Initially, Chad doesn't think his wife was caught in the fire," Billy Flynn shares. That is when the doctors tell him that Abby was badly burned and is in surgery to save her life. Chad's head starts spinning, and he isn't sure how he should feel about it all.
Related: Kate Mansi Talks Leaving 'DOOL,' New Movies, And Whether She Will Return To Daytime
"Chad gets angry. He wonders what kind of place Shady Hills is that fires are happening. He makes threats that he will buy the place and tear it down, himself," Flynn explains.
Chad goes to see Abby after she wakes up from surgery, and all his anger about the fire immediately goes away. The only thing that matters to him is Abby's health.
Related: Danger at Commune, Dirk Takes Joey and Jade Hostage – Rory Freaks On JJ – Julie Supports Jennifer
Things go from bad to worse when Abby claims she saw Ben the night of the fire. At that point, Chad thinks his wife is not getting any better and it leaves him with a heavy heart. He is left wondering if she could have seen Ben or accepting the fact that Abby may never get better.
The fact is, both scenarios would be hard for Chad to accept. Chad thought he was handling the fire and Abby's mental state well until he learns just how the fire started.  What will Chad do next?  Stick with Soap Opera Spy for all your Days of our Lives spoilers, news, and updates.
Share your thoughts in the Comments section below, on our Facebook Page,  join our Facebook Group or Head over to our Discussion Board to Talk Soaps Daily!