'The Young and the Restless' Spoilers Monday, June 29: Adam Covers For Victor After Jack Shot, Marisa Holds Flack At Gun Point, Dylan Punches Joe
"The Young and the Restless" spoilers for Monday June 29, 2015 reveal that although Gabriel thought Victor shot Flack it was actually Jack that was shot.  Flack asks Marisa to leave Genoa City with him but Marisa refuses to go until she sees Jack.  Dylan ties Joe up and demands he admit he raped Avery.
The Monday June 29, 2015 episode of Y&R opens with Billy [Burgess Jenkins] at Flack's [Peter Bergman] office because Summer [Hunter King] texted everyone and told them to come to Flack's office ASAP. They assume they are meeting Flack but when they get there Summer walks in. She tells them she sent the message. Summer says to Billy, Kyle [ Lachlan Buchanan] and Ashley [Eileen Davidson] , "This war ends tonight, it has to or it is going to destroy all of us. This has to stop!"
Nikki tells Victoria Sharon [Sharon Case] is pregnant. Victoria is surprised. Nikki tells Victoria Jack called her to meet him in the park and Victor got really upset.
Marisa [Sophia Pernas] calls Jack [Peter Bergman] but he does not answer so she leaves a message and tells Jack not to go to the Park because Paul [Doug Davidson] and the police are coming.
Meanwhile at the Park Gabriel [Justin Hartley] tells Victor [Eric Braeden] that Flack is dead, he killed him. Victor says, "Flack pulled a gun on me so I shot him."
Avery [Jessica Collins] is talking to Phyllis [Gina Tognoni] and Phyllis tells Avery, "We have to take him down, we have to make him pay for what he did!" Avery replies, "I will do it myself."
Related: 'The Young and the Restless' Spoilers June 26: Victor Shoots Flack or Jack, Avery Says Joe Raped Her, Marisa Warns Paul of Impending Violence
Dylan [Steve Burton] goes to Joe's [Scott Elrod] room at The Athletic Club and Joe says, "It is late to come for a nightcap." Dylan punches him and Joe falls to the floor.
Gabriel says to Victor, "You killed my father, I should call the police." Victor says, "He would have shot me and Flack called Nicki."  Victor says, "But you won't, you will help me for a price right?"
Phyllis says, "I will make Joe pay for what he did. Avery honey you have to be strong and not let him walk on you." Avery replies, "I am and I am going to pay him back. I want to see him feel the shame that I am feeling right now.  I want him dead!"
Gabriel says to Victor, "I clean up your mess her no one has to know you were involved. You give me Newman Abbot.  You give me the whole thing!"  Victor agrees and Gabriel tells him to get lost. Victor leaves.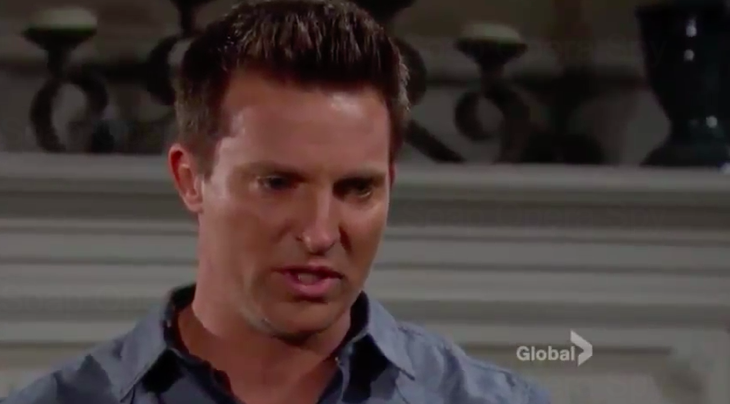 Joe starts to come to from being hit and he tries to get up, he is confused and then he realizes he has been tied to a chair. Joe says, "Why the HELL did you do this Dylan?" Dylan says, "Because you raped Avery. If you tell the police you raped Avery I will let you go!" Joe tells Dylan he is breaking the restraining order. Dylan ignores him and says, "just admit what you did, you sick son-of-a-bitch!"
Over with Kyle, Summer, Ashley and Billy Kyle tells everyone they have to go to the police and come clean.
There are sirens in the park and Jack is lying on the ground and Gabriel bends down to Jack and says, "Hey the cops are coming lets go. Why didn't you wear the vest." Gabriel puts his hand down and there is blood. Gabriel looks up and it is Flack and he realizes it is Jack on the ground bleeding. Flack says "Sorry, I got held up." Flack looks down sees Jack shot and says, "Is that…"  Gabriel says, "Yes Victor shot him.  It was point black."  Flack tells Gabriel to shut up. Flack says, "There is a pulse, your friend is alive."  Gabriel looks at Jack and says, "You are going to be all right it is you and me Jack you are going to pull through."  Flack says to Gabriel, "Stay in the park and play it out everything will come to you." Flack leaves.
Gabriel asks Flack what he is going to do and Flack replies, "Do what I do best and disappear!"
The police get to the park and Gabriel tells them he just got to the park, heard shots and found Jack. The police take Jack to the hospital.
Related: 'The Young and the Restless' News: Mishael Morgan Talks About Upcoming Birth of First Child, Shows Off Baby Bump in Stunning Photo Shoot
Victor's is talking to Nikki [Melody Thomas Scott] and Summer. The phone rings Victoria picks it up she is told by Billy Jack is at the hospital shot. Summer, Nikki, Kyle and Billy head to the hospital to see Jack.
Dylan accuses Joe of beating Avery up and Joe says, "Well you did the same thing when you went to hit me and you hit Avery." There is a knock on the door and it is Avery. Avery comes into the room and accuses Joe of raping her and then she tells Dylan to let Joe go because it is over.  Avery says the Police will analyze the information.  Joe threatens to call the police on Dylan and Avery threatens him, she tells Joe if he reports Dylan she will report him for violating her restraining order.
At the hospital Phyllis says to Billy, "I just saw Jack today and the look on his face was different." Billy accuses Gabriel of shooting Jack but Gabriel gets angry and denies it.
Victoria [Amelia Heinle] gets home and tells Victor he is going to be accused of shooting Jack, she tells Victor he set Jack up. Victoria says, "It looks like you are going to let Gabriel run the company." Victor says, "No that is not it."  Victoria asks Victor if he shot Jack and Victor denies it.
Joe is in his room and he is calling the police to report Dylan. All of a sudden he looks down and he finds Avery's bracelet and he drops the phone.
Avery is at home and she realizes her bracelet is gone. Dylan offers to go back and get her bracelet for her and Avery tells him not to go.  Avery is upset that Dylan got involved and she tells him to stay out of it.
Flack goes to Marisa and she says, "You are not Jack. How could I ever forget you Marco." Flack gets a phone call he tells the person on the phone he wants an airplane to meet them at the airport. Marisa thinks Flack is going to leave her and leave without her.  Flack tells her she can go with him he has a pile of money in an offshore account. Marisa refuses to go and says she wants to see Jack. Flack tells her to do what she has to do and he will do what he has to do. Marisa pulls a gun on Flack and tells him he is not going anywhere.
Victoria keeps questioning Victor and finally he admits he shot Jack in self defence.  Victoria asks why he left the scene of the crime and Victor tells Victoria that Gabriel blackmailed him.  Phyllis walks in and Victor denies he did anything.  Phyllis asks Victor why he saved Jack in the Underground collapse, why he took her out of the coma?  Victor keeps denying he shot Jack.
Ashley asks Nikki how Jack is. Nikki says she has been praying for Jack. Ashley says sarcastically, "Oh Nikki, that is all Jack needs your prayers, I'm sure he will be fine now."
The doctor comes out and tells everyone that Jack lost a lot of blood and he has slipped into a coma.
That is it "The Young and the Restless" fans!  Were you surprised that it was Jack that was shot by Victor? What is Marisa going to do to Flack now that she has him at gun point?  Do you believe Joe raped Avery or is Avery setting Joe up?
Share your thoughts in the Comments section below, on our Facebook Page, or join our Facebook Group for Discussion.
This article is the exclusive intellectual property of Soapoperaspy.com and any use by other media outlets must be explicitly credited and linked.