'The Young and the Restless' Spoilers July 28: Adam Kidnaps Connor, Paul Sick, Chelsea Confides In Jack-Adam Furious
"The Young and the Restless" spoilers for Tuesday July 28, 2015 reveal that Adam takes drastic moves when he overhears a conversation between Jack and Chelsea.  Meanwhile, Phyllis is starting to realize there is a big difference from Jack and the Jack pre the shooting.
The Tuesday July 28, 2015 episode of Y&R opens with Victor [Eric Braeden], Abby [Melissa Ordway] and Victoria [Amelia Heinle] in Victor's office at Jabot Newman. Victor says that he and Jack [Peter Bergman] will run the company now that the parasite Gabriel Bingham [Adam Newman] is gone.
Jack, Billy [Burgess Jenkins] and Phyllis [Gina Tognoni] are at the house. Jack looks at photo of him and Phyllis during the honeymoon stage. Billy tells Jack he wants to know everything that happened not just what happened in the park.
Paul [Doug Davidson] and Christine [LauraLee Bell] are his office -Paul feels something isn't adding up, Paul believes someone isn't telling the whole story.
Adam [Justin Hartley] is banging at Chelsea's [Melissa Claire Egan] door pleading with her through the door. Chelsea tells Adam to stop and just leave. Chelsea threatens Adam and tells him if he does not leave she will call the police and tell them everything.
Related: 'The Young and the Restless' Explosive Video: Desperate Acts – Adam Takes Connor, Dirty Deeds At Devon's Bachelor Party
Chelsea asks her Mom Anita [Catherine Bach] if Connor is sleeping and Anita replies, "no not really." Anita goes on and says she hates to see Chelsea upset, she asks Chelsea if something happen between her and Gabe.
Paul tells Victor he's a free man.
Back at Jack's house Phyllis is thinking about Jack before the shooting, just before and how she finally felt connected to him again. Jack reassures Phyllis everything is okay. Jack tells Phyllis he is here to stay. Jack then tells Phyllis, "I want to go upstairs with you Phyllis but not to rest. I need to be with you, be close to you."
Abby and Victor are still in the office. Jack says, "Suddenly the man who has been a thorn in our side has disappeared completely. Jack Abbot and I have come to an agreement."
Paul is looking for Gabe at Chelsea's Apartment. Chelsea tells Paul that Gabriel left town. Paul warns Chelsea that if she is covering for Gabriel she is in as much trouble as he is in. Paul searches Chelsea's apartment and sees that all of Gabriel's stuff is gone.
Related: 'The Young and the Restless' Spoilers For Monday July 27: Chelsea Bars Adam From Her and Connor, Sharon is Unravelling, Marco Is Alive
Billy and Adam are still in the park. Billy asks Adam if he hurt someone and Adam tells Billy, "Why don't you drop it. Go home, tells Victoria you love her and go hold your children."
At Victor's office Victoria says, "You don't have to convince me that Gabriel is a narcissistic jerk! What about you Dad are you a different person?"
Chelsea gets to Jack's door and knocks at the door. Chelsea says, "Where is Adam, Adam, Adam? Jack the police are after Adam, once they arrest him and fingerprint him this whole thing will blow up in your face." Jack replies, "Maybe it's better he's gone, you and I have both risked a lot to keep his secret. Maybe he's better off in prison since he killed Delia."
While Jack is talking to Chelsea Adam is eavesdropping on them talking about Delia. He hears,"He's always thought of himself as being the black sheep of the family. A big part of Adam will forever be wanting his father's approval."
Chelsea says she thought the second chance would have been good for Adam. Jack asks if Chelsea is there to make sure Adam is gone and Chelsea says, "I think it's best if Adam remains dead in everyone's mind including his son."  They hear a noise.
Phyllis wakes up and has a memory flash of what changed Jack.
Adam goes to Chelsea's penthouse. Anita tells him the police were there and Paul is looking for him. Adam says, "I can't stay here in Genoa City, it's not safe." Chelsea's mom, Anita goes upstairs to get Connor so Gabriel (Adam) can say goodbye.
Paul is back at headquarters with Christine. Paul thinks Chelsea is covering for Gabriel.
Billy comes in to talk to Jack and says, that it does not makes sense you need to do something soon.
Adam has taken Connor, he has kidnapped him. Adam says, "it's just you and me now little man!"
Jack asks Phyllis if she is awake, she opens her eyes.
Back at the GCPD Paul doubles over in pain. They go to get help.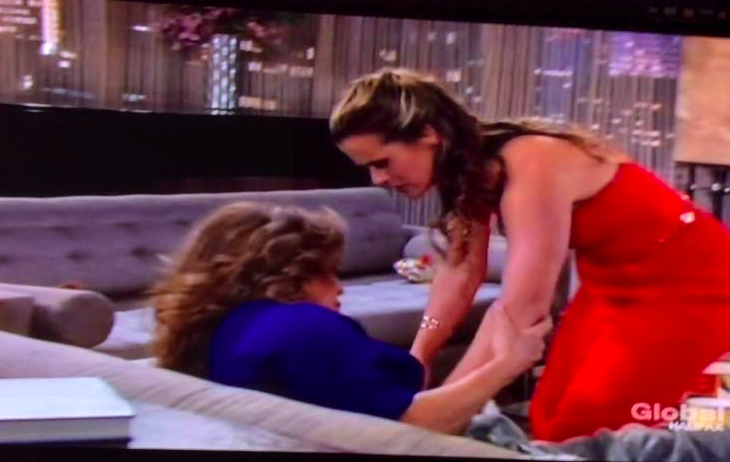 Anita was sleeping Chelsea wakes her .Chelsea hollers, "Gabe Gabe Gabe?" Then exclaims, "OMG they're gone. Call 911 right now!" There is a knock at the door.
Chelsea begs her mother to call 911 right now
Paul is still doubled over in pain.
The scene switches to Chelsea Adam shows up and Adam tells Chelsea she overheard him talking to Jack. Chelsea is furious and cannot believe that Adam took Connor. She says, "Honestly tried to steal our son?" Adam replies, "What I did was wrong. I shouldn't have done that." Chelsea yells, "Connor already has to live with enough of your mistakes. Get out, Get Out I'm so done. I'm so done!" Adam is furious!
That is it "The Young and the Restless" fans!   What do you think Adam is going to do now that Chelsea has thrown out?  What do you think is wrong with Paul?  Is Phyllis going to figure out that there was another Jack around?
Share your thoughts in the Comments section below, on our Facebook Page, or join our Facebook Group for Discussion.
This article is the exclusive intellectual property of Soapoperaspy.com and any use by other media outlets must be explicitly credited and linked.