'The Young And The Restless' Spoilers Tuesday December 15: Victor Blows Up On Billy – Abby Confronts Ashley Over Stitch Lies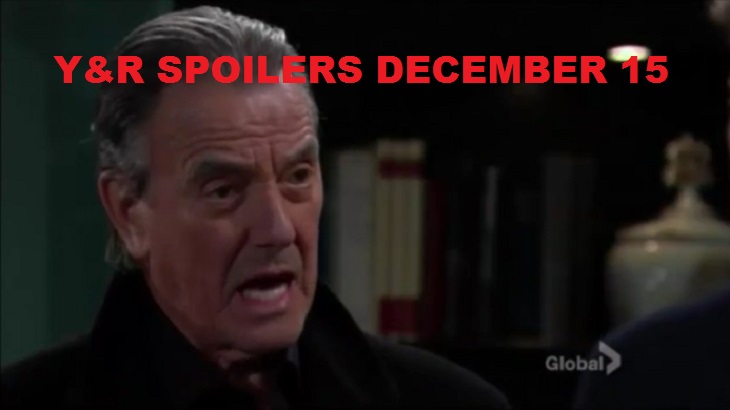 "The Young and the Restless" Tuesday, December 15 previews teased that Abby Newman [Melissa Ordway] will confront her mother about her feelings about Stitch [Sean Carrigan]. Faith [Alyvia Aly Lind] asked Nick Newman [Joshua Morrow] if Sully looks like Sharon [Sharon Case] or Dylan [Steve Burton]. Victor Newman [Eric Braeden] accuses Billy Abbott [Burgess Jenkins] of being the cause of his marriage failure with Victoria Newman [Amelia Heinle].
At Sharon's house, Faith asked Nick, "Who do you think Sully looks like daddy—mommy or Dylan?" Nick looks around confused as if he was avoiding the question. Nick has been avoiding looking at Sharon's new baby because his grief is so fresh. If he just looked at Sully –really stared at him—he may see that Sully is his son, Christian.
Related: Ashley Comes Clean About Stitch, Adam Chooses Between Victor And Jack
At Victoria's home, Victor and Billy get into it again. Victor points his finger in Billy's face and tells him, "You are responsible for the downfall of your marriage. NO ONE else. It's all on you!" Billy seemed bothered by Victor's harsh words. Eventually, Victoria spoke up and tells her dad to stop; however, she allowed Victor to get in a few insults first.
Abby puts her mother, Ashley [Eileen Davidson] on blast about why she lied to her. Abby tells her, "Why didn't you tell me what Stitch's real last words were to you in the Newman building?" Ashley looked at her concerned, knowing that he likely told her what he really said. Ashley better buckle up—Abby will have some tough questions for her this week and her true feelings for her fiancée.
Related: Ashley Abbott Gets Unexpected Help Saving Jabot From Victor Newman
Will Ashley admit to having deep romantic feelings for Stitch? Will Billy and Victoria patch up their relationship, and find a way to co-exist with Victor? Will Nick find out that Sully is really Christian?
Share your thoughts in the Comments section below, on our Facebook Page, or join our Facebook Group for Discussion.