'The Young And The Restless' (Y&R) Interview: Justin Hartley Discusses Replacing Michael Muhney, And Relationship Between Victor And Adam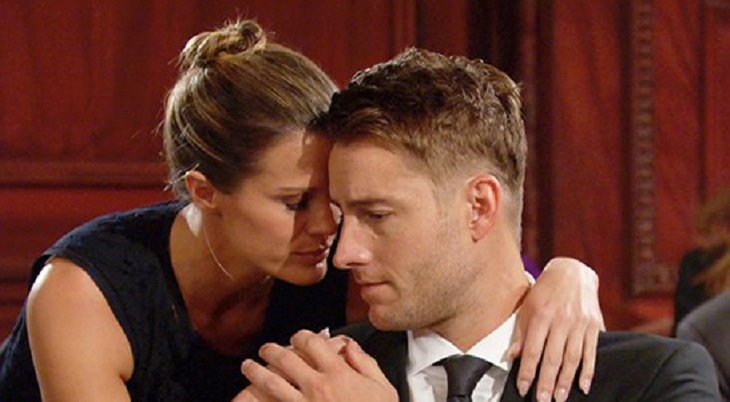 "The Young and the Restless's" Adam Newman [Justin Hartley] is the most complex characters since well, Victor Newman [Eric Braeden]. There was so much anxiety over whether Justin could pull it off- considering he was stepping in the shoes of a very popular fan favorite- Michael Muhney. Justin Hartley took the anger driven complex character into a social media sensation. After just a year in the role, Justin has made the role all his own and fans are incredibly anxious at the possibility of his departure. ABC Soaps in Depth sat down to interview the handsome hunk to get his take on the sensation behind Adam Newman.
Justin said, "Adam leads with his heart even though he has a big brain and incredibly intelligent. My appeal to him was he was relatively smart- at least I think so- but his heart always got in the way. He's hard not to like, and at the same time he's hard not to love to hate. That's what I am going for- a little charm with a splash of humor."
Related: A Mad Woman On The Loose In Genoa City – Hilary's Finger's Move – Cane Moves Out
Hartley explained that when he first was approached about taking over the role of Adam, he was intrigued by it. There was pressure to do well in the role. "They explained his story to me, and I was intrigued. I felt a lot of pressure in that they entrusted Adam Newman in me. There was so much riding on my success in the character," Justin explained.
Justin feels that Adam and Victor may get their relationship back on track. He hopes for Adam's sake it happens soon. "It's a love story more than anything. The hate comes from a place of love. He loves his father and isn't quite sure why he isn't good enough for him. Adam has this deep fear that he will have the same relationship with his son. He is doing everything he can to show his son; he is loved and cherished," he noted.
Related: Chloe Reveals She Hit Adam, Knocks Out Mariah – Sage's Baby Stops Breathing – Chelsea Confronts Chloe
He said that people loved his pairing with Chelsea. "The Young and the Restless" fans have watched as he earned her love as Gabriel Bingham. She seems to be in his corner even when she is incredibly angry with him. "Right now, he can't have her. However, he wants her and wants the hope that when he is done serving time, she will be there," Justin explained.
Justin Hartley believes that Adam's real punishment is self-inflicted and there is no need for him to serve jail time. He feels an enormous amount of guilt for Delia's [Sophie Pollono]; no jail sentence will make that go away. The fact is, both Billy [Burgess Jenkins] and Adam both hold guilt from that tragic night- they need to let go of the guilt and start to forgive themselves, so they can start healing.  Will Adam have to serve his ten-year sentence- or will Michael find a way to keep him out of jail? Will Chloe find a way to kill Adam?
Share your thoughts in the Comments section below, on our Facebook Page, or join our Facebook Group for Discussion.