'General Hospital' (GH) Spoilers Week Of October 19-23: Michael Has Baby News – Julian Knows Leo Alive – Sonny Gets Bad News – Ned & Kevin Back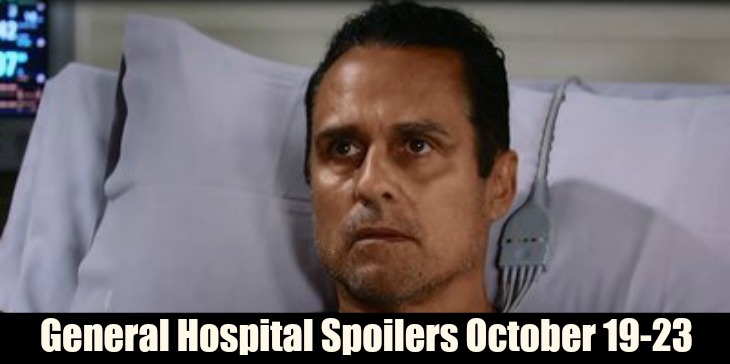 This week on GH, two characters return, a new one comes on the scene, plus tons of storyline action. Here are the 'General Hospital' spoilers you need for the October 19 thru October 23 episodes.
This week, Michael Quartermaine [Chad Duell] finds out he's going to be a daddy – except it's a lie since Sabrina Santiago's [Teresa Castillo] offspring is likely the child of Carlos Rivera [Jeffrey Vincent Parise]. Oblivious Michael tells the grandbaby news to Sonny Corinthos [Maurice Benard] and Carly Corinthos [Laura Wright]. Dante Falconeri [Dominic Zamprogna] and Lulu Spencer [Emme Rylan] are also making baby plans and Dante shares the update with mom Olivia Falconeri [Lisa LoCicero].
Nathan West [Ryan Paevey], however, thinks that Dante should tell Lulu that he cheated with Valerie Spencer [Brytni Sarpi] before they implant their embryo. Ned Ashton [Wally Kurth] is back for a day or two and tells Olivia to come clean about her baby being alive to Julian Jerome [William deVry]. But Alexis Davis [Nancy Lee Grahn] will beat her to it since she had Olivia's baby's pacifier DNA tested and found out it's a match for Julian. Alexis tells him that Leo is alive and gives him some advice.
Related: How Well Do You Know Damian Spinelli? Take The Challenge!
Sonny is happy to hear the grandkid news but then gets really bad news about his medical condition. Looks like he's not going to bounce back as quickly as he hoped. Carly, Michael, and Morgan Corinthos [Bryan Craig] are there to support him and keep him positive. Sonny is also determined to keep Michael out of the family business, but with Sonny's condition not improving, can Michael take a step back? Will Sonny assume Michael is making a mob power play?
In other family drama, Lulu sees tension between her mom Laura Spencer [Genie Francis] and half-brother Nikolas Cassadine [Tyler Christopher] and wants to know what's up. Will Laura tell Lulu about Jake Doe [Billy Miller]? Laura also is uncomfortable around little Jake Spencer [James Nigbor] and wants Liz Webber [Rebecca Herbst] to get him looked at. Dr Kevin Collins [Jon Lindstrom] is the other returning character we'll see back this week and little Jake is just one of the patients who needs his help.
Molly Lansing Davis [Haley Pullos] is not happy that Alexis and Julian are planning on moving in together – in the house where she lives. Molly tells Julian she doesn't want him there but she also has the distraction of a new friend. New cast member Darby [Jesica Ahlberg] is in Port Charles starting this week and looks to be a permanent cast addition who may be a romantic rival for TJ Ashford [Tequan Richmond]. Darby is rumored to cause big trouble in Port Charles.
Related: Can Liz Webber Be Redeemed After Jake Doe Reveal? VOTE!
Jake demands that Nikolas come clean about why he had his DNA tested and what he knows about his identity. What will Nikolas do to save his skin from Jake's very real threats of violence? Hayden Barnes [Rebecca Budig] is also annoyed at Nikolas and plotting revenge. She has a partner in crime that we don't know yet but then has second thoughts about taking Nikolas down when she overhears him telling Spencer Cassadine [Nicolas Bechtel] that he may be falling for her.
Damien Spinelli [Bradford Anderson] found some really juicy dirt in the data Sam Morgan [Kelly Monaco] stole from Nik's computer. After Sam grills him, Damien shares some info – is it that Jason is alive? Jake later tells Carly that Sam and Spinelli are helping him figure out his past. Liz doesn't want Jake to keep poking into the past and asks him to stop. Jake won't like this and won't comply. Also poking into his past is Brad Cooper [Parry Shen].
Brad wants to marry Lucas Jones [Ryan Carnes] and turns to Alexis for help getting him out of his marriage with Rosalie Martinez [Linda Elena Tovar] while still protecting him from whatever crime it is that he and Rosalie are somehow tied up in. Will Rosalie push back on the divorce? Also, Liz gets a surprise wedding shower from pals at GH but she has to be kidding herself to think that her bigamist wedding with Jake will go down like she wants.
Tons of exciting stuff happing in Port Charles this week – come back to Soap Opera Spy for daily 'General Hospital' spoilers, casting news and more.
Share your thoughts in the Comments section below, on our Facebook Page, or join our Facebook Group for Discussion.