'General Hospital' (G&H) Spoilers Thur, August 20: Olivia Seeks Sonny's Advice, Ava Asks Julian For Help, Morgan Unravels-Bipolar?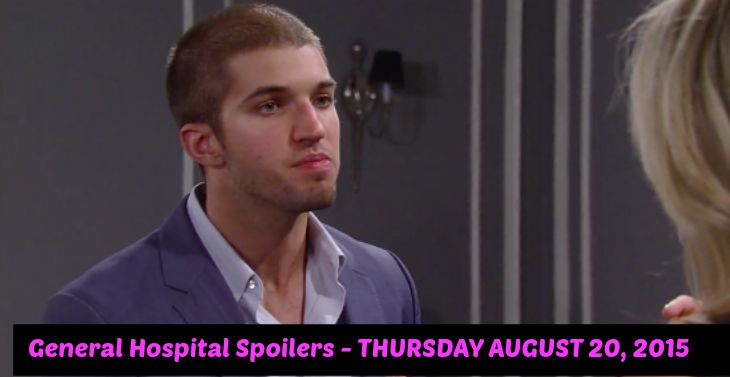 Carly Corinthos (Laura Wright) and Sonny Corinthos (Maurice Benard) chat with Michael Quartermaine (Chad Duell) about a couple of important topics. First, they want to know if Michael has reconsidered his first refusal to attend their upcoming wedding and if he might show up. Michael may relent on this point.
Then it's on to the mayhem portion of the conversation. Sonny and Carly want to talk to Michael about Morgan Corinthos' (Bryan Craig) increasingly erratic behavior. Michael has been on the receiving end of Morgan's antics so he will definitely have some feedback for them. Will Michael be shocked when they bring up the notion that Morgan might also be bipolar?
Related: 'General Hospital' (GH) Spoilers Wed, August 19: Ava Confesses To Julian-Scott Outs Her, Molly Worries About TJ, Morgan Lashes Out At Carly
Also on the topic of Sonny, Molly Lansing Davis (Haley Pullos) wants to talk to TJ Ashford (Tequan Richmond) about his living arrangements. Molly thinks that TJ is not safe living at Sonny's place but TJ stubbornly insists things are good. Is there a chance that Molly may pair up with Jordan Ashford (Vinessa Antoine) to try and get TJ out of Chez Corinthos for good?
Olivia Falconeri (Lisa LoCicero) drops by later – she wants to get Sonny's opinion on an important matter. Olivia is worried about the escalating mob violence, but why is she talking to Sonny about this? She knows that Sonny is neck-deep into it, so what makes him entitled to talk about mobsters? What is Olivia thinking?
Related: 'General Hospital' (GH): Maurice Benard Wants A Sonny & Laura Romance – Why It Could Work!
Related to the Silas Clay (Michael Easton) murder trial, Nina Clay (Michelle Stafford) hates that Franco (Roger Howarth) is on trial for a murder she knows he didn't commit. Nina is ready to take action but then Madeline Reeves (Donna Mills) shows up for an unwelcome visit. Nina tells her that Ava Jerome (Maura West) is alive and she's the killer.
But once they get talking, something Maddy says has Nina rethinking the Ava killed Silas theory. Nina now thinks her Silas-hating mom could be the real killer. Nina calls up Nathan West (Ryan Paevey) to catch him up and she ponders coming clean to her brother to convince him once and for all that they've got the wrong man on trial. Look for Nathan and Nina to team up.
Ava's time is running out. Now that Liesl Obrecht (Kathleen Gati) is on to Ava, too many people know that Denise is a fiction. Julian Jerome (William deVry) also now knows that Ava is back from the dead so she fills him in on how it all happened and then asks him to help her get back the evidence against her in the Connie Falconeri murder case that's in the DA's desk. Will Julian help her out?
And Ric Lansing (Rick Hearst) puts Morgan on the stand – Scotty Baldwin (Kin Shriner) asks Franco if Morgan's testimony will make him look bad – it will. But Franco will give Scotty some information about Morgan that he can use to push his buttons and make Morgan freak out on the stand. Look for Scotty to question him about Denise/Ava and watch Morgan's mental state unravel.
After today's episode, check back with Soap Opera Spy for 'General Hospital' spoilers for Friday's show and more!
Share your thoughts in the Comments section below, on our Facebook Page, or join our Facebook Group for Discussion.
This article is the exclusive intellectual property of Soapoperaspy.com and any use by other media outlets must be explicitly credited and linked.