'General Hospital' (GH) Spoilers: Sam Thinks Jason Morgan Is Alive – Will She Still Marry Patrick?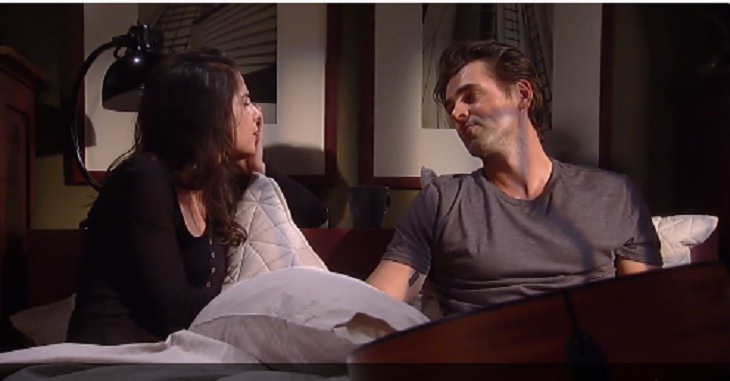 "General Hospital" has promised to wrap up Jason Morgan's (Billy Miller) reveal in the next few weeks. It looks like it is starting to come together and shaping up for one heck of a shock to Port Charles. Jake er Jason has had flashbacks of his life as Jason, particularly a moment that Sam (Kelly Monaco) hopped on the back of his motorcycle. He thought it was a recent memory, but it looks like it was their wedding night four years prior.
Related: Jake's Wedding Vows With Sam for Mrs. Yi – Carly Marries Sonny – Michael Threatens Ava
On Friday's episode, Sam was deep in thought at the Noodle Buddha- thinking about her presumed dead husband, Jason. Jake appeared at the same eatery only he was there to pick up food for Sonny's (Maurice Benard) family. Jake and Sam have a moment in the spot they married just four years earlier. Suddenly, Jake had a vision of Sam walking towards him to hitch a ride on his bike. He quickly dismissed the vision of meaning anything. After all, she's ridden on his motorcycle before.
The conversation between them turns intense when Sam makes a startling confession to him. She tells him that, deep down, she wanted to accept Patrick's (Jason Thompson) marriage proposal, but she can't. Something in her is resisting. Jake asked her, "Why are you holding on to Jason's ghost?" She stutters and doesn't immediately know why. An emotional Sam finally whispers to Jake, "I can't believe I am going to say this out loud. OK, maybe it's because, deep down, I still think Jason is alive."
Related: Spoilers Week Of Sept 28-Oct 2: Jake and Sam Renew Vows – Ava Names Carlos As Shooter – Nathan Jealous
It seemed like the way she was hauling those statues around; she must be holding on to something big. She still doesn't suspect that Jake is really Jason, but soon it may come to her. Now is the test for her; will she tell Patrick she cannot marry him because she can't let go of Jason, yet? Or, will she decide to move on, only to find out later that the love of her life is still alive?
Finally, the writers are giving the fans a glimpse of a Jason reveal. Do you think Sam will be shocked to learn that Jake is her presumed dead husband, Jason Morgan?
Share your thoughts in the Comments section below, on our Facebook Page, or join our Facebook Group for Discussion.