Y&R Spoilers: Where Are Billy And Chelsea Headed?
The Young and the Restless (Y&R) spoilers for Tuesday, January 24, 2023, reveal Billy and Chelsea discussing their future. Will that future be together?
The Young And The Restless Spoilers – Are Chelsea Newman And Billy Abbott Ready For More?
Now that Billy Abbott (Jason Thompson) and Lily Winters (Christel Khalil) have officially broken up, Billy is spending every chance he gets with Chelsea Lawson (Melissa Claire Egan). As for Chelsea, she doesn't quite know what to make of things. She doesn't want to be the rebound person for Blly but she certainly can't deny that she has strong feelings for him.
On Tuesday, they discuss what is in store for them now either together as friends or together in another way. Are things moving too soon for Chelsea, who just went through an extremely rough time in her life? Adam Newman (Mark Grossman) seems very interested in everything she does now, too, so that prospect may be out there for her. If Chelsea had to choose, would she want to be with Billy or Adam, two men who have been rivals for years?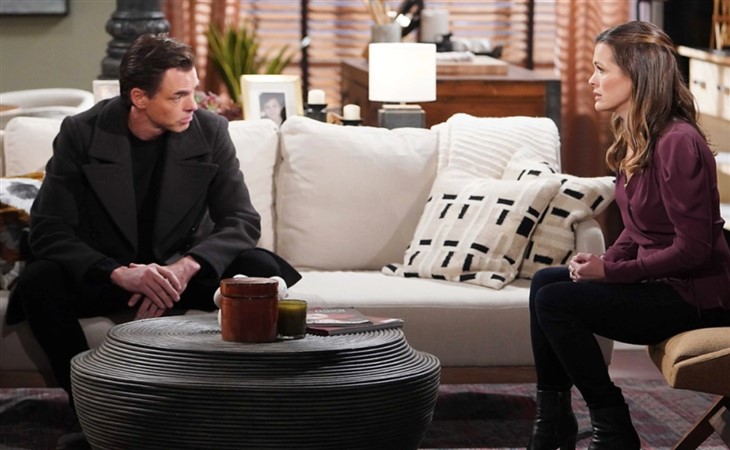 Y&R Spoilers – Lily Winters – Has Her Own Major Problems
Fresh off her breakup with Billy, Lily has had to deal with a breakup of sorts from her brother, Devon Hamilton (Bryton James). She feels betrayed that Devon wanted to pull out of Chancellor-Winters and practically pretend as if none of that happened. They were supposed to work together as a brother and sister team and now look what happened.
Devon begs Lily to try to see his point of view and find some common ground with him, but can she do it? She is definitely hurt and isn't often a very forgiving person, although she did forgive Billy a lot over the last few years.
The Young And The Restless Spoilers – Phyllis Lawson Makes A Promise
Lily is definitely liking the fact that Daniel Romalotti (Michael Graziedei)is back in town and they have been growing closer. Daniel has also enjoyed being in Genoa City again, but he needs something from his mother and that is a promise. Phyllis Summers (Michelle Stafford) gives him that promise, but is it one she will be able to keep? Stay tuned to The Young and the Restless weekdays to see how these stories play out.