GH Spoilers Tuesday, January 30: Spy Searches, Giving Orders, Having Doubts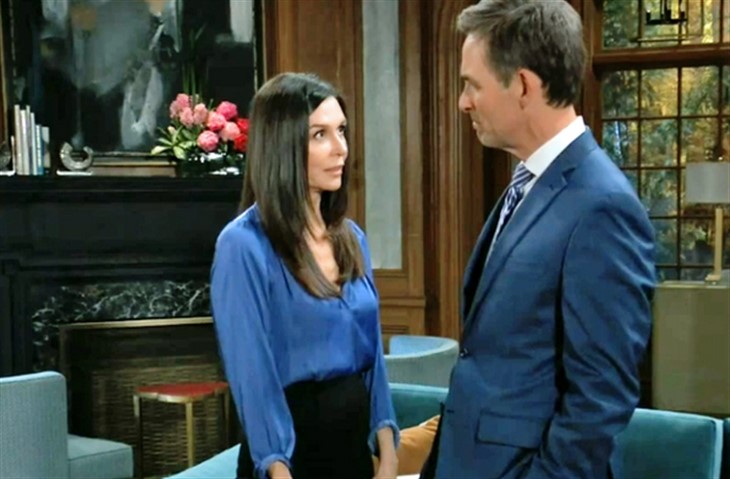 General Hospital (GH) spoilers and updates for Tuesday, January 30 tease spy searches, giving orders and having doubts. Valentin Cassadine (James Patrick Stuart) and Anna Devane (Finola Hughes) are on the hunt, Nikolas Cassadine (Marcus Coloma) gives orders, and Laura Collins (Genie Francis) starts to have doubts.
General Hospital Spoilers – Spies On The Hunt
Valentin and Anna talk about the search for Lucy Coe (Lynn Herring) in Paris, as Anna worries they have enough time before it's too late. Little do they know that Valentin's contact, Rene Levesque (Maria Tornberg) has led them into a setup, having paid one of Victor Cassadine's (Charles Shaughnessy) thugs. They know that Lucy's inside the compound if the path through the catacombs, or mines, as Rene called them really leads there.
They appear to still be inside their Parisian hotel awaiting a guide who Rene supposedly arranged. But so far, the guide has not arrived.
GH Spoilers – Elizabeth Baldwin Has Her Doubts
At Kelly's, Elizabeth Baldwin (Rebecca Herbst) is still talking to Laura about her mother, Carolyn Webber (Denise Crosby). Carolyn has come to Port Charles on a psychiatric consultation, but with ulterior motives to make amends with Liz. Elizabeth did talk to her about some deep issues, such as why Carolyn stayed with Jeff Webber (William R. Moses) a serial cheater. But Elizabeth again says to Laura that she's questioning if she can really risk trusting her mother.
General Hospital Spoilers – Nikolas Cassadine's Giving Orders
Meanwhile, Carolyn has arrived at Wyndemere Castle where Nikolas wants to hire her to repress Esmé Prince's (Avery Kristen Pohl) memories like she did Elizabeth's. But Nikolas is giving Carolyn orders, telling her she'll do exactly as he says. Carolyn clearly has her doubts and she'll have even more when he tells her it's to protect Elizabeth.
Carolyn will wonder what kind of trouble her daughter is in now, even though she may realize Nikolas and Elizabeth are old friends. Carolyn will have a lot of questions for Nikolas!
GH Spoilers – Laura Collins Is Beginning To Doubt
At Kelly's, Laura and Elizabeth are still talking and after Elizabeth expresses doubts she can trust her mother, Laura admits she's having doubts she can trust her son! She tells Elizabeth she's starting to feel that way about Nikolas. Nikolas has been doing some pretty strange things lately and Laura is worried. What kind of trouble is he getting himself into now? Laura is starting to become suspicious of her son's motivations and intentions, as well as his actions.
General Hospital Spoilers – Maxie Jones' Surprise
Maxie Jones (Kirsten Storms) is surprised when she asks Sam McCall (Kelly Monaco) when she was going to tell her about this. "This" could be anything from something about Cody Bell, (Josh Kelly) who is Dante Falconeri's (Dominic Zamprogna) childhood friend to something Sam's been looking into for Maxie. Whatever it is Maxie is borderline shocked – and more than a little surprised.
The two of them appear to be having lunch at the Port Charles bistro so it's not about business. It appears to be more personal.
GH Spoilers – Josslyn Jacks' Tearful Request
At her dorm room, Josslyn Jacks (Eden McCoy) continues to talk with Cameron Webber, (William Lipton) who found out the hard way she left him for another guy. Josslyn is in tears after telling Cameron not to tell anyone about her and Dex Heller (Evan Hofer). Josslyn tells Cameron she's afraid of what Sonny Corinthos (Maurice Benard) might do if he found out. Considering Josslyn rescued Dex from a meat hook in a freezer in the back of Pozzulo's that tracks!
General Hospital Spoilers – Sonny Corinthos Presses Dex Heller
At Sonny's penthouse, Sonny presses Dex who had interrupted his and Spencer Cassadine's (Nicholas Alexander Chavez) conversation. Sonny tells Dex his confession, perhaps about his relationship with Sonny's ex-stepdaughter doesn't let him off the hook. Interesting choice of words there, Dex is likely hoping it doesn't get him back onto the hook in the meat freezer.
Dex likely comes clean about his part in rescuing Joss from the Hook attack. He did shoot Heather Webber (Alley Mills) in the wrist.
Be sure to catch up on everything happening with GH right now. Come back here often for General Hospital spoilers, news, and updates.