GH Spoilers: 'Sprina' Hit The Sheets After Trina Birth Father Reveal?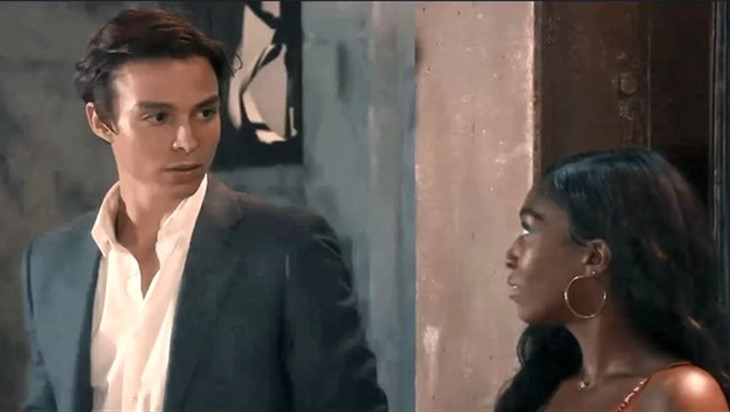 General Hospital spoilers and updates tease after Trina Robinson's (Tabyana Ali) birth father reveal, all bets are off and she and Spencer Cassadine (Nicholas Alexander Chavez) hit the sheets! Since Trina's mother, Portia Robinson (Brook Kerr) didn't mind lying to Trina about her birth father being Curtis Ashford (Donnell Turner) she won't mind hooking up with someone Portia hates!
General Hospital Spoilers: Portia Robinson Lied To Curtis Ashford
When Portia and Curtis reconnected a couple of years ago, Curtis asked Portia right away if Trina was his, considering the timeframe of their long ago affair. Portia told him no, with certainty, and that was that-it had been Curtis who dumped her after finding out she was married to Marcus Taggert (Réal Andrews). So, while Portia may not really know for sure because no paternity test was ever done, she's now acting like she knows Trina's his, and so she lied.
It would really be a simple thing for Portia to do the same thing Carly Spencer (Laura Wright) did with Willow Tait's (Katelyn MacMullen) and Nina Reeves' (Cynthia Watros) DNA. She's a doctor, she could run the test herself and then she'd know for sure, but she acts like she'd rather not know for some inexplicable reason.
GH Spoilers: Suspicious Stella Henry Checks It Out
According to GH spoilers, Curtis' Aunt Stella Henry (Vernée Watson) already has her suspicions, and likely has ever since she did a DNA test back a few years ago; she claimed she found a cousin. This was about the same time Trina also did an ancestry project for a class, but she never thought about the results of her father being in Port Charles. Both Curtis and Marcus were in town at the time, and she had no reason to ever doubt her paternity, but it sounds like Stella's test revealed more details.
That is likely why Stella made up that cousin she went on a European trip with around that time, and did some other sketchy things too like swiping those divorce papers. She and Trina didn't know each other that well, but maybe she wanted to spare the young teenager a who's my daddy drama, especially after Taggart faked his death.
General Hospital Spoilers: Valentine's Day Weddings Never Work
It's really odd that Curtis and Portia decided to marry on Valentine's Day since Curtis and Jordan Ashford (Tanisha Harper) did too, as badly as their wedding night was. Curtis and Jordan found Kiki Jerome's (Hayley Erin) dead body dressed in a wedding dress in their honeymoon bed, a victim of Ryan Chamberlain (Jon Lindstrom). But then weddings complete in Port Charles about as often as the Quartermaines get a turkey dinner for Thanksgiving, no matter who the bride and groom are.
Chances are, the secret will come out at the wedding, and Trina will be livid at Portia. So instead of Portia and Curtis in this honeymoon bed, it might be Trina and Spencer, with Trina lashing out at her mom like Spencer has at his dad.
Be sure to catch up on everything happening with GH right now. Come back here often for General Hospital spoilers, news, and updates.