DOOL Weekly Spoilers: Hope Finds Harris, Bo Runs Loose, And More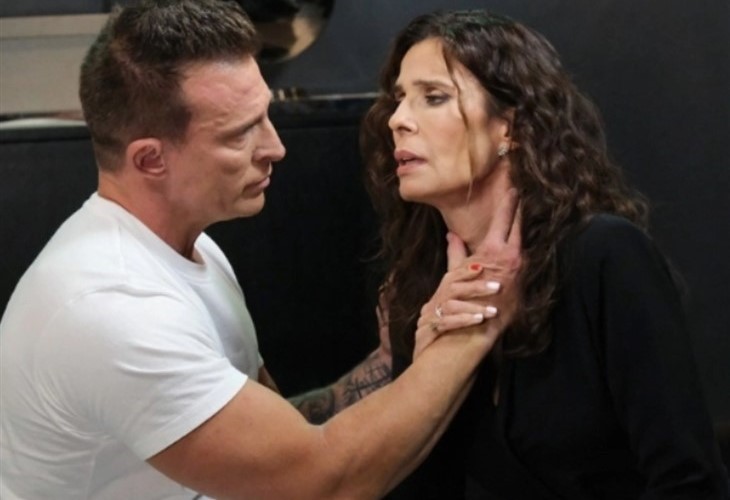 Days of Our Lives spoilers for March 20-24, 2023 reveal another action-packed week in Bo and Hope land, plus so much more.
Days Of Our Lives Spoilers – When Will Hope Find Bo Brady?
Hope Williams Brady (Kristian Alfonso) may not yet know that Bo Brady (Peter Reckell) is alive and that he is the reason Megan Hathaway (Miranda Wilson) wanted the three prisms, but she knows Megan is up to something and is determined to find her finally.
To that end, Hope meets up with Harris Michaels (Steve Burton) and gets him to agree to undergo a process in which the ISA will dig through his memories of Megan and release him from his brainwashing. What will Harris uncover and did Megan use the same process on him that she seems to have used on Bo?
Clearly, there is something off about Bo, but his previous life starts to break through as he remembers his father, Victor Kiriakis (John Aniston). Marlena Evans (Deidre Hall) and Kayla Brady Johnson (Mary Beth Evans) try to figure out who kept Dr. Wilhelm Rolf (Richard Wharton) kept on ice for nearly a decade and it looks like they realize it was Bo.
DOOL Spoilers – Back In Salem
At that other DiMera compound in Salem, EJ DiMera (Daniel Feuerreigel) and Nicole Walker (Arianne Zucker) pull one over on Stefan DiMera (Brandon Barash) and make him believe they are going to help him sneak some time alone with Gabi Hernandez (Camilla Banus). Stefan is all for it, but it is also all a trap.
Little does he know that they are trying to get Gabi to stray so that she breaks her contract with Li Shin (Remington Hoffman) and never gets her hands on those DiMera shares. Will Gabi and Stefan figure out what's going on before it's too late?
Days Of Our Lives Spoilers – Other Salem Happenings
Leo Stark (Greg Rikaart), aka Lady Whistleblower, overhears Chloe Lane (Nadia Bjorlin) badmouthing a little girl named Rachel Black (Finley Rose Slater) and thinks that will be a great story for the newspaper his grandfather founded. Xander Cook (Paul Telfer) and Alex Kiriakis (Robert Scott Wilson) have a blowup over Gwen Rizcech (Emily O'Brien).
Finally, Jada Hunter (Elia Cantu) is stunned that Thalia Hunter (Aketra Sevillian) has found a new career while Paulina Price (Jackee Harry) gets a shock from Sloan Petersen (Jessica Serfaty). Stream new episodes of Days of Our Lives weekdays on Peacock beginning at 6 AM EST.