Days Of Our Lives Spoilers: The Three Dead Ladies Are In For A Big Surprise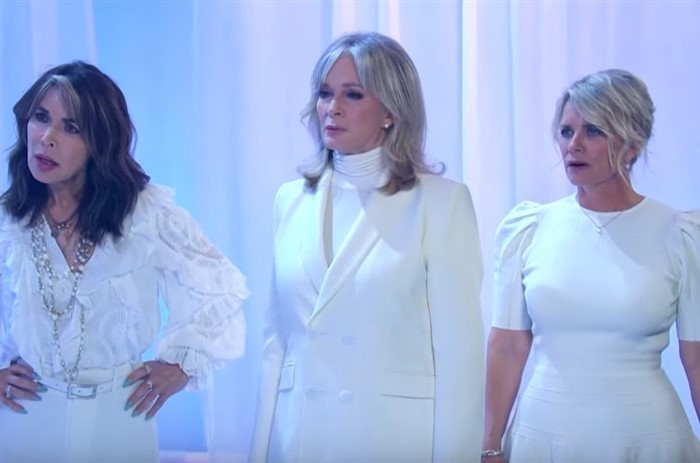 Days of Our Lives (DOOL) spoilers for Monday, February 6, 2023, reveal the three famed dead Salemites getting the shock of their 'lives' in a mysterious place.
Days Of Our Lives Spoilers – Marlena, Kate, And Kayla Have Quite An Encounter
Kate Roberts Brady (Lauren Koslow), Kayla Brady Johnson (Mary Beth Evans), and Marlena Evans (Deidre Hall) finally got together in their strange version of the great beyond and meet up with someone they never expected to see again.
They did not look happy at the end of Friday's show and instead looked as if they were going to have quite a fight on their hands. Do they see a dead Salemite who may have hated them at one time or is this just a continuation of the Satan story from 2021 and 2022? It would make sense for Satan to be after them with Marlena in the group. We did see glowing eyes on someone who looked like Susan Banks (Stacy Haiduk), so do the ladies finally learn who really brought them to his place?
DOOL Spoilers – Orpheus Causing Earthly Trouble
Down in Salem, John Black (Drake Hogestyn), Roman Brady (Josh Taylor), and Steve Johnson (Stephen Nichols) put their revenge plan into action. Orpheus (George Del Hoyo) may be behind bars but that doesn't mean they can't get to him somewhere.
Over in Statesville, Orpheus is being more of a menace when he tries to entice Lucas Horton (Bryan R. Dattilo) to take a drink. He has been trying this for weeks and is determined to make sure Kate's son makes even more of a mess of his life. Will Lucas succumb to Orpheus' urgings?
Days Of Our Lives – Alex Kiriakis's Heart Is Further Broken
Alex Kiriakis (Robert Scott Wilson) may have to face that his move with her phone might have ruined things between him and Stephanie Johnson (Abigail Klein) forever. No matter what he says, he can't seem to earn her forgiveness. He learns that she has decided to make things official with Chad DiMera (Billy Flynn).
Heck, Stephanie already slept with Chad just days after sleeping with Alex, and so soon after her beloved mother died. Will Alex decide to give up or will something else pull him and Stephanie together again? Stream Days of Our Lives weekdays on Peacock by 6 am EST to see how these stories play out.