Y&R Spoilers: Victoria Leaves Town – Ashland Arrests Loom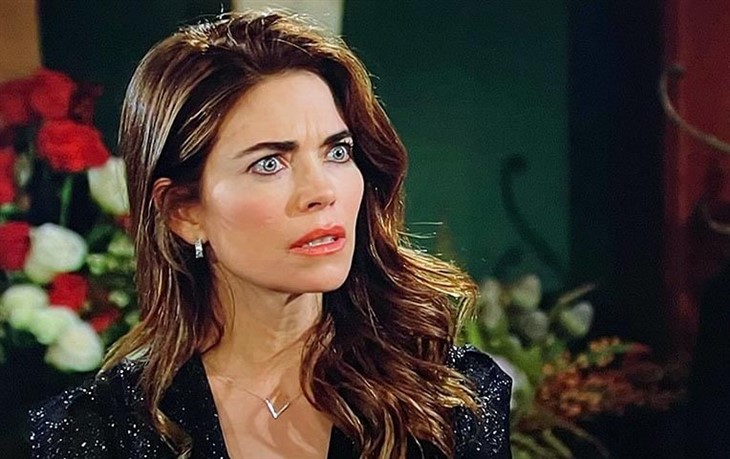 The Young and the Restless spoilers document that Victoria Newman (Amelia Heinle) is a major part of an investigation into Ashland Locke's (Robert Newman) death. Chance Chancellor (Conner Floyd) is her brother-in-law. But more importantly, is heading the investigation.
Leaving town just after Ashland died in her house, mysteriously disappeared and was found by the Genoa City Police in his car, which was in a ravine. That was an unusual choice to make.
Victoria looks suspicious, assuming that she is on vacation as Nick Newman (Joshua Morrow) said.
The Young And The Restless Spoilers – Setting The Mystery Scene
Victor Newman (Eric Braeden) arrived after Victoria and Nick returned to the house. Nick felt compelled to take a walk after realizing that his punch caused Ashland to fall onto Victoria's fireplace, with his head injury causing death.
Viewers knew Nick's arrival at Victoria's doorstep, while she and Ashland were arguing inside, meant the scene was being set. The drama unfolded, Ashland died, and Victoria followed Nick out of the house on that dark and windy night.
The writers allowed time and space for Victor to work his Moustache magic.
Y&R Spoilers – Victor Newman's Minions Chose A Ravine
Victor's security team were keeping watch over Victoria when Ashland appeared at the back of her home. Presumably, those possibly off-book employees did not see Ashland from whatever their location was. If they had, Victor's fixers would have gone into the house to protect Victoria instead of Nick.
It appears that Nick and Victoria were spotted leaving from the front of the house. That led to Victor's people entering Victoria's house, taking Ashland's body out, and putting it in his car.
The timeline implies that Victor's team located Ashland's car at a point in the plot just after Nick became involved. They may have searched for Ashland in the surrounding area and then entered Victoria's house.
Fans noted that specifically putting Ashland and his car into a ravine sounds creatively better than telling the audience he drove into a lake, a ditch, or whatever.
The Young And The Restless Spoilers – Chance Chancellor Moving Toward Justice
Chance is a by-the-book guy. He, along with Kevin Fisher (Greg Rikaart), who has often been outside of the law in GC, but is a GCPD employee now, are making progress on the case.
Victoria told the truth. So, did Nick. The evidence should support the statements given to Chance.
But Victor seems primed to be charged with cover-up crimes. Michael Baldwin's (Christian Le Blanc) legal savvy will likely be needed in the near future on Y&R.
This site is a leading source for everything linked to The Young and the Restless. Check back regularly for Y&R spoilers and news!