Y&R Spoilers: Is Tessa's Career In Danger?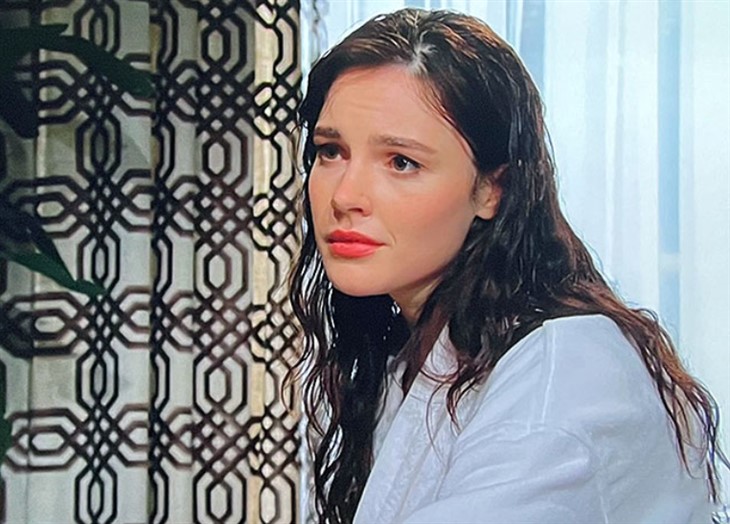 The Young and the Restless (Y&R) spoilers for Monday, July 4, 2022, reveal every singer's worst nightmare possibly coming true for Tessa.
The Young And The Restless Spoilers – Tessa Porter's Voice In Danger
Tessa Porter (Cait Fairbanks) may be happily married to Mariah Copeland (Camryn Grimes) right now, but married doesn't always mean your life is going to be perfect, and now one of the most essential parts of Tessa's existence seems threatened — her voice.
Singers fear something going wrong with their voice and vocal cords all the time. The voice and all the vocal folds and what happens when air enters them wrong or when they become swollen are things most people do not think about, but Tessa does and it's clear something is very wrong with hers.
The news she gets from Elena Dawson (Brytni Sarpy) is not the news she wants to hear, but is her voice permanently damaged, or is there something that can be done about her problem? Tessa needs to sing, as all singers do. And it's not just about a professional career. It's about being true to themselves. Tessa may need more emotional support from her wife than she ever imagined, but we know Mariah will be there.
Y&R Spoilers – Summer Newman Tries To Help Her Mom
While Summer Newman Abbott (Allison Lanier) does know that her mother can be a little extra, she still wanted to help her get Jack Abbott (Peter Bergman) back but it didn't work out the way she had planned. And it certainly didn't work out as Phyllis Summers (Michelle Stafford) had planned, but the fact that Summer was trying to help Phyllis might end up backfiring in the young woman's face on Monday.
Will whatever Summer did cause problems between her and Kyle Abbott (Michael Mealor) considering how close Kyle is becoming to his mother once again. Even when she doesn't try, Diane Jenkins (Susan Walters) causes trouble for all. Or, is she trying?
The Young And The Restless Spoilers – All About Allie Nguyen
Allie Nguyen (Kelsey Wang) has been making herself comfortable in Genoa City and has struck up a few friendships, even one with Noah Newman (Rory Gibson). But now she turns to her grandfather Jack for advice. She needs to make a big decision, but will Jack be able to help her? Stay tuned to The Young and the Restless weekdays to see how these stories play out.