The Young and the Restless Spoilers: Devon Makes A Shocking Move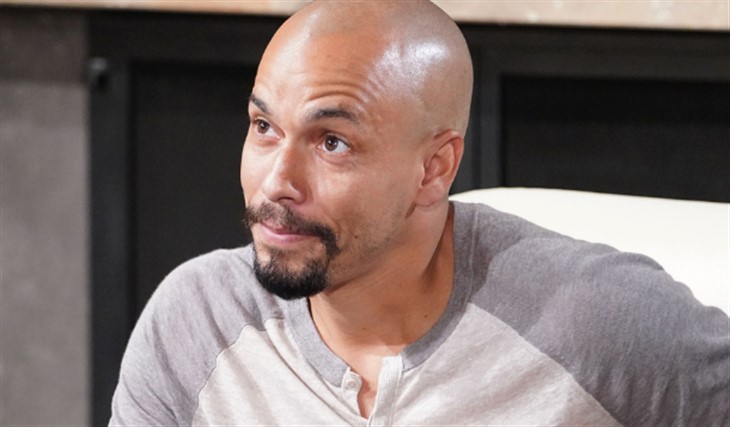 The Young and the Restless spoilers for Tuesday, November 8, 2022, reveal Devon making a big decision about his life.
The Young And The Restless Spoilers – Is It Over With Amanda Sinclair?
Devon Hamilton (Bryton James) certainly did not expect to have this deep and involved conversation with Abby Newman Chancellor (Melissa Ordway) when she brought Dominic over to stay for a few nights. The two ended up pouring out their hearts to one another and all the disappointments in their life.
That led to a shocking kiss between two people who were just supposed to be friends and co-parents just as Amanda Sinclair (Mishael Morgan) walked through the door. Needless to say, she is stunned by what she sees when she thought she would be surprising her boyfriend with her early arrival back home.
This causes Devon to do some more thinking and he has to make a choice. Does he really want to continue with this relationship with Amanda that is just not working out the way either one of them wanted it to? After all, what is it really based on and how stable can it be if he is kissing Abby?
Y&R – Jill Abbott Is Back
Throughout this mess with Nate Hastings' (Sean Dominic) and Devon's personal lives, Chancellor-Winters has suffered and now Jill Foster Abbott (Jess Walton) is back in town to fix this mess. She thought she could trust the younger generation to run things but that just wasn't the case and now she is stuck.
It also looks like she is going to have to have another long talk with her son, Billy Abbott (Jason Thompson). After all, he didn't help keep things under control, but we have no idea why Jill thought he ever would.
 The Young And Te Restless – Chelsea Newan Starts Therapy
After nearly ending her life, Chelsea Lawson (Melissa Claire Egan) meets a brand-new therapist who could change her life. At least it's not Sharon Collins (Sharon Case) because that could be a real conflict of interest. Hopefully, this new therapist can get Chelsea back on the right track. Stay tuned to The Young and the Restless weekdays to see how these stories play out.