Sister Wives Christine Makes A Wreath As She And Paedon Self-Quarantine
Sister Wives star Christine Brown celebrated Mother's Day with her son Paedon However they couldn't invite people around because they were self-quarantined. Meanwhile, his mom worked on a wreath. However, it's unlikely that she planned ahead for a bad outcome. So, who got sick, and is it covid-19?
Sister Wives – Star Christine Brown Opens TikTok But Illness Strikes
On Mothers' Day, we reported that Paedon persuaded his mom to open a TikTok account. At the time, neither of them mentioned that one of them fell sick. Anyway, Paedon later shared about Mother's Day and revealed that they were quarantined together on her special day. Neither of them mentioned Truely, either. Perhaps she visits her dad, Kody as part of their custody arrangement.
Sister Wives fans love it that Paedon joined the social media platform as he often dishes the tea about his family and the show. Actually, the news that he left St.Geroge in southern Utah and relocated to Salt Lake City to be near his mom, made them like her son even more. Nowadays, they spend a lot of time together, and it's possible that Paedon lives with her temporarily.
Sister Wives – Does The Family Have COVID?
In the last season, TLC fans saw that the younger family members didn't seem too keen on Kody insisting on social distancing. Perhaps something rubbed off though, as Christine and her son decided to quarantine. The reason for the wreathe in the background of his TikTok remains a mystery though. Perhaps, she makes them to earn an income? Anyway, Peadon explained that he fell sick, although he denied it at first. Additionally, he said they'd really looked forward to celebrating Mother's Day.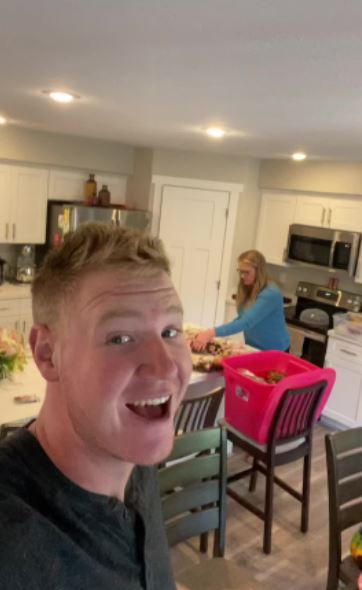 If you worry that Sister Wives star Christine Brown deals with covid-19 in the house, you can relax. Actually, it's stomach flu and Paedon got it first. While fans hoped they get better soon, some people were a bit critical of their quarantining. However, it does seem like a reasonable thing to do, as other Salt Lake City residents complained that the stomach flu is spreading like wildfire.
Sister Wives – No Response To Question About The Wreathe
Sister Wives fans claimed that secretly, Paedon was happy that he took a bug home to Christine Brown's house. After all, he got to have his mom all to himself on Mother's Day. Unfortunately, he didn't respond to a question about why his mom was making a wreathe. Perhaps, in time, she will reveal more about it.
What are your thoughts about Peadon and his mom quarantining because of stomach flu? Doi you think it was the right thing to do? Sound off in the comments below.
Be sure to catch up on everything happening with the TLC cast right now. Come back here often for more Sister Wives spoilers, news, and updates.