GH Spoilers: Rory Too Good To Be True? Prince Charming Has Secrets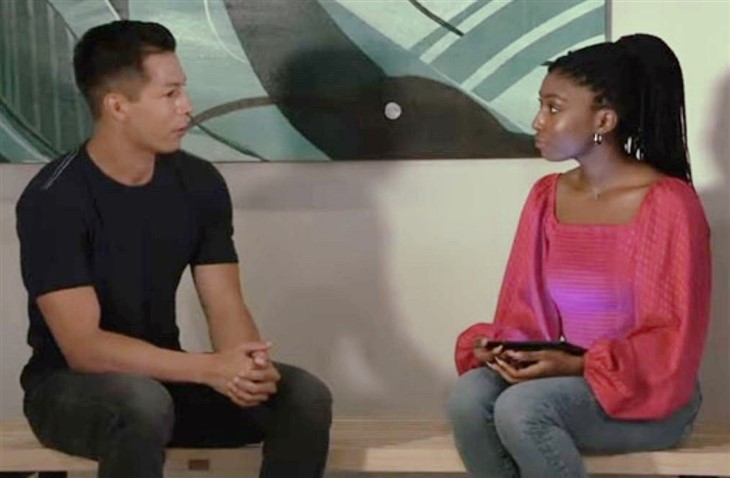 General Hospital (GH) spoilers reveal that Trina Robinson (Tabyana Ali) made an unexpected connection after her arrest. It was Officer Rory Cabrera (Michael Blake Kruse), who seemed to empathize with Trina's situation. The two have gotten close and there is chemistry brewing. However, Rory seems too good to be true. What kind of secrets is Rory hiding?
General Hospital Spoilers – Spencer Cassadine's Mistakes
GH spoilers reveal that Spencer Cassadine (Nicholas Alexander Chavez) always seems to do the wrong thing with Trina. This began when Spencer snuck into Port Charles and gave Trina a fake name. The deception has continued although Spencer is trying to save Trina. While Spencer's plans seem to be falling apart, Trina found a new ally when she met Rory.
Spencer is clearly jealous of Rory, but he can't really say it. After all, Spencer is in a relationship with Esme Prince (Avery Kristen Pohl), although it is just a scheme. Speaking to Soap Opera Digest, Chavez said that Spencer's perspective is that Rory is new to town and doesn't understand "how things work around here."
GH Spoilers – Trina Robinson Losing Hope
Trina hopes that she will be cleared of her criminal charges. After all, Trina is innocent and was framed by Esme. Trina is showing signs of not being so cautious anymore. As Trina realizes she could lose her freedom, she is starting to do things that normally she wouldn't consider.
Fans might remember how pumped up Trina was after the bar fight and avoiding being hauled down to the station. Trina seemed to like being so close to danger and for the first time in a while, there was a twinkle in her eye and her eyes were filled with excitement.
There was also the bold move that Trina made by pushing Esme into the pool. Pretty much everyone ended up getting wet that day except Trina. The fan-favorite character seemed to feel good about actually taking action.
At the same time, Trina is also losing hope. In fact, Trina's loved ones worry about Trina's mental health as the trial begins.
General Hospital Spoilers – Esme Prince's Deceptive Move
General Hospital spoilers reveal that so far, Rory seems perfect. However, nobody is that perfect, especially in soaps. One of the first clues that Rory might not be as good as he appears was when Esme tried to get his help.
Esme wanted Rory to get her access to Spring Ridge and Ryan Chamberlain (Jon Lindstrom). Rory didn't just say no, he tried to manipulate a manipulator. It almost succeeded until Esme realized what Rory was really doing. Rory can play it off as he was just trying to help Trina. However, Rory was a bit too good at the manipulation. This wasn't something new for him.
GH Spoilers – Rory Cabrera's Secrets
There are also all the people saying what a good guy Rory is. Even Jordan Ashford (Tanisha Harper) thinks Rory is a straight arrow. When a character gets gushed about how "good" they are, it's usually a clue that they are anything but.
So, what is Rory hiding and could he have hidden connections in Port Charles? Rory doesn't seem to have bad intentions for Trina. However, his secrets and hidden connections could make Trina think that Spencer's the better man.
Be sure to catch up on everything happening with GH right now. Come back often for General Hospital spoilers, news, and updates.