GH Spoilers Monday, November 28: Unbelievable Betrayals, Shocks, And Intriguing Offers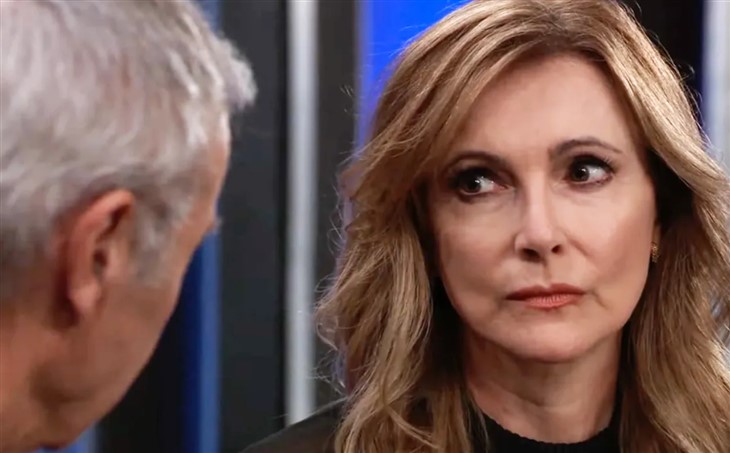 General Hospital (GH) spoilers and updates for Monday, November 28 tease unbelievable betrayals, shocks, and intriguing offers! Viewers should note there will be no new episode Friday, with a return to normal programming on Monday.
General Hospital Spoilers – Unbelievable Betrayals
It seems unbelievable that Holly Sutton (Emma Samms) would drug Robert Scorpio's (Tristan Rogers) tequila after admitting to him Victor Cassadine (Charles Shaughnessy) has her son. She picked the lock to the briefcase and now has the Ice Princess necklace, which it looks like she intends to turn over to the Cassadine patriarch. There is just a glimmer of hope that perhaps Robert and Holly are in this together, with the necklace being fake, but that remains to be seen.
Robert Scorpio (Tristan Rogers) is still woozy and out of it, and tells Diane Miller (Carolyn Hennesy) who got him over to the hospital to get Ashford there now. That of course would be Port Charles Police Commissioner Jordan Ashford (Tanisha Harper), who will put an all-points bulletin to be on the lookout for Holly.
General Hospital Spoilers – Monday, November 28: Unbelievable Betrayals, Shocks, And Intriguing Offers
Jordan's at the hospital as Dr. TJ Ashford, (Tajh Bellow) who is there to examine Robert, asks what she is thinking. It's obvious Robert has been drugged, and that's what she tells her son and the lab tests will verify it. Robert is still pretty out of it and Holly's going to be on the hot seat once they catch up to her. Diane will verify it had to be Holly who drugged him and stole the briefcase, there couldn't have been anyone else. However, he had told Diane when they were at the Metro Court before Holly arrived that the less she knew about the briefcase the better off she'd be.
General Hospital Spoilers – Monday, November 28: Unbelievable Betrayals, Shocks, And Intriguing Offers
Holly seems shocked as she runs into Laura Collins (Genie Francis) unexpectedly, Laura making a request and telling her she won't take no for an answer. Holly might still have the necklace since they appear to run into each other perhaps at the docks and Holly on her way to meet Victor or a henchman. Holly is desperate and she'll make a desperate move; maybe she's thinking better of it and wants to give the necklace to Laura.
It's possible they are actually in a dark restaurant or in front of a coffee stand as there appears to be shiny metal objects in the background. Maybe she'll just ditch the necklace in a teapot and come back for it later to stall Laura.
General Hospital Spoilers – Monday, November 28: Unbelievable Betrayals, Shocks, And Intriguing Offers
Victor shows up at Wyndemere and he tells Nikolas Cassadine (Marcus Coloma) he knows exactly what's going on, although he jumps to a wrong conclusion. Maybe he thinks Nikolas killed Esmé Prince (Avery Kristen Pohl) or shipped her off to Cassadine Island or another Cassadine compound. In reality, she's locked in a room in the north tower, Nikolas having taken extra steps to contain her. Now there are boards over all the windows and he's talked to Elizabeth Baldwin (Rebecca Herbst) about providing prenatal care, but after the birth, Esmé's toast.
General Hospital Spoilers – Unexpected Company
Once Victor leaves, Elizabeth arrives and he tells either Esmé or Nikolas she's there to help Esmé. She can't just let the conniving teenage expectant mother go without medical care, and that's what Nikolas counted on. Esmé can't get anything past Elizabeth and she knows it now, after pretending to pass out and Elizabeth threatening a cesarean section with no anesthesia.
That woke Esmé out of her pretend coma and her stupidity in a real hurry. It's pretty hard to fool a woman who was a conniving teenager herself.
GH Spoilers – Intriguing Offers
At the Metro Court, Ava Cassadine (Maura West) waits at a table with a martini and she's doubly intrigued. The Port Charles Police Department needs her help with something and Mac Scorpio (John J. York) and Kevin Collins (Jon Lindstrom) discuss the favor with her. She almost drops her drink and certainly her smile when she finds out what they want her to do; but it's not Ryan Chamberlain (Jon Lindstrom) they want help with. They want her to help them catch Esmé!
General Hospital Spoilers – I'll Have Blackmail With My BLT
Heather Webber (Alley Mills) gets a visitor at D'Archam Asylum, it's Dante Falconeri (Dominic Zamprogna) there on official business. He's there to ask some questions, likely about Anna Devane's (Finola Hughes) escape from the prison transport bus. Heather offers to tell him everything, but for a price, which may only a BLT lunch from Kelly's, easily accommodated.
Considering the guard from D'Archam was passed out and the driver, Dex Heller (Evan Hofer) had been missing there's no one else to ask. So Dante asks Heather if she knows anything about Anna and where she went.
GH Spoilers – A Conniving Cry For Help
It sounds like Elizabeth may have arrived at Esmé's tower room to help, and she's trying to connive already. Esmé uses her best impersonation of a sad puppy dog as she beseechingly looks at her, or possibly Demetrius, (Ari Kappatos) Nikolas' guard. She cries they can't just leave her there, they have to let her go! But she's not going to be let go, no matter how she manipulates and whines.
Be sure to catch up on everything happening with GH right now. Come back here often for General Hospital spoilers, news, and updates.