General Hospital Spoilers: Laura And Elizabeth Reconnect, Laura Learns The Ugly Truth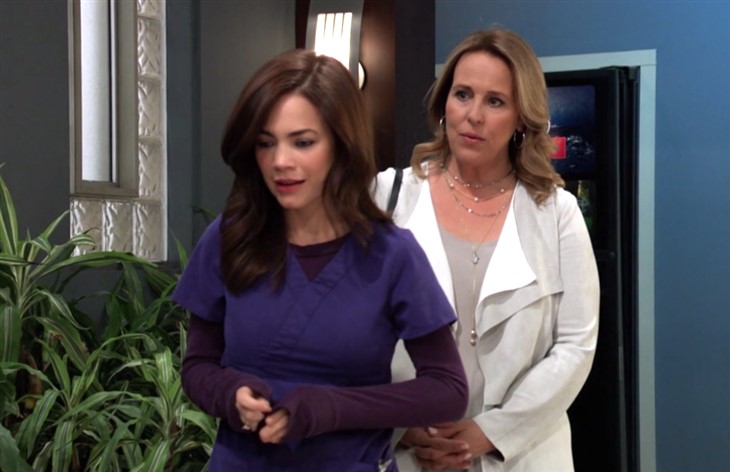 General Hospital spoilers tease that Elizabeth Webber (Rebecca Herbst) has finally learned the truth about her blackout and sleepwalking escapades and it isn't pretty. Now that Laura Collins (Genie Francis) has returned, it's time for her to hear the truth. Look for Laura to be shocked at the truth about Jeff Webber (William Moses). Laura has had her own issues with the Webber men so this should be an interesting conversation to say the least.
General Hospital Spoilers – Laura Collins Learns The Truth About Reiko Finn
Elizabeth finally recalled that she accidentally pushed Reiko Finn (Mele Ihara) down a staircase after catching her having an affair with Elizabeth's father Jeff. Reiko ended up surviving but needed a blood transfusion. It was during this transfusion that Reiko contracted Blackwood's Disease which eventually killed her. To make matters even more complicated, Liz is now romantically involved with Reiko's husband, Hamilton Finn (Michael Easton). Look for Laura to understand the situation more than Elizabeth might know.
GH Spoilers – Laura Collins Accidentally Killed Rick Webber!
According to General Hospital spoilers, Laura was raised by Jeff's brother, Rick Webber (Chris Robinson). She also caught Rick in an indiscretion and accidentally killed her adopted father when she confronted him about it. This caused Laura to struggle with her own mental health and was catatonic for several years because of it. Laura eventually recovered but she lost several years because of the whole situation. It's uncanny how similar the situations are.
General Hospital Spoilers – Laura Collins And Elizabeth Webber will certainly bond!
Once Laura and Elizabeth compare notes it will be good for both of them. Both have endured great trauma because of a father figure's indiscretions. The fact that the two men are brothers will make their situations eerily similar. If Jeff is still in town look for Laura to unload on her adopted uncle. She had blocked the incident from her memory for decades so this should be quite cathartic for her as well. Laura and Elizabeth will likely become closer than ever. They have come out the other side and will both be stronger for it.
GH Spoilers – What Do You Think?
Will Laura share her history with Elizabeth? Will this bond Elizabeth and Laura? Will Laura have the chance to confront Jeff? Anything can happen in Port Charles so stay tuned to General Hospital airing weekdays on ABC. And don't forget to check back right here regularly for all your General Hospital news, information, and spoilers!