GH Spoilers: Finn Calls Elizabeth's Parents For Help?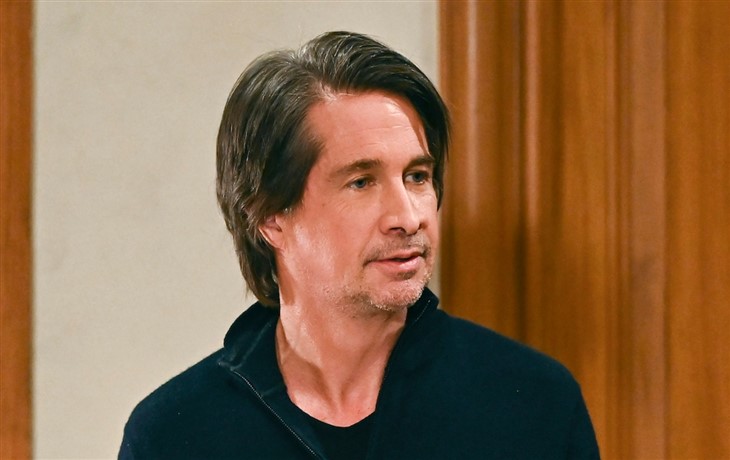 General Hospital spoilers and rumors tease that Dr. Hamilton Finn (Michael Easton) will drive a nail in his relationship coffin in an upcoming GH episodes. Again, he'll think he knows what's best for Elizabeth Baldwin (Rebecca Herbst) and he'll call her parents!
General Hospital Spoilers – Hamilton Finn Thought Elizabeth Baldwin's Parents Should Know
First Finn barged in on Elizabeth at Shadybrook when she was being visited by Laura Collins (Genie Francis) and talking about her therapy, and brought her a bouquet of flowers. To say she didn't appreciate his visit or his flowers would have been the understatement of the century – in fact, she told him to leave! Elizabeth doesn't want Finn's micromanaging her condition and trying to "fix" her – she made it quite clear that this is something she needs to do on her own!
Finn then asked Laura if anyone had called Elizabeth's parents to let them know about the serious condition their daughter is in. No one had told them and it was Elizabeth's preference – she cut ties with her parents years ago!
GH Spoilers – Elizabeth Baldwin Was Very Upset With Jake Webber For Contacting Her Parents
When the Baldwin family was trying to figure out what was going on with Elizabeth she thought that maybe Jake Webber (Hudson West) was acting out. Jake had lost both his beloved stepfather Franco Baldwin (Roger Howarth) and his birth father Jason Morgan (Steve Burton) in a matter of months.
It had been discovered that Jake was out of the house a lot and not at his friends' houses; it turned out that he had been at the library. Elizabeth was very upset that he had been emailing back and forth with her parents, because she does not want a relationship with them! If she is upset about her son having a long distance relationship with her parents by email, imagine what she would think if Finn contacts them!
General Hospital Spoilers – It Is Not Known What Prompted Elizabeth Baldwin To Cut Ties With Her Parents
Longtime viewers will remember that Elizabeth and her sister Sarah Webber (Sarah Laine) came to Port Charles when Elizabeth was just a teenager. Sarah, being older, became a doctor while Elizabeth later became a nurse; Sarah helped care for their grandmother, Audrey Hardy (Rachel Ames) after she had brain surgery. Sarah eventually left Port Charles, but Elizabeth stayed, living with their grandmother throughout her teenage years.
This was while Jeff Webber (most recently Richard Dean Anderson) and his wife Carolyn Webber (uncast character) chose to go overseas, working with "Doctors Without Borders". Obviously, a teenage Elizabeth, then known as "Lizzie" wasn't old enough to live on her own.
GH Spoilers – Dr. Hamilton Finn Grievously Oversteps And Contacts The Webbers, Infuriating Elizabeth Baldwin
Finn grievously oversteps and violates Elizabeth's boundaries that she has set for herself, by contacting the Webbers; when she finds out she is infuriated! Finn thinks he is doing what is best, which clashes with her sense of independence and makes their relationship unbearable; Laura is put on the spot when Jeff asks details! Laura and Jeff know each other from many years back, she has never met Carolyn, who Jeff married after he left Port Charles.
Finn's rationale is finding out more about Elizabeth's childhood and possibly thinking there was abuse – Laura suspects something happened but not with her parents at fault. But as for Finn and Elizabeth's relationship, he's put the nail in the coffin and she tells him she doesn't want to see him again other than as a colleague!
Be sure to catch up on everything happening with GH right now. Come back here often for General Hospital spoilers, news, and updates.